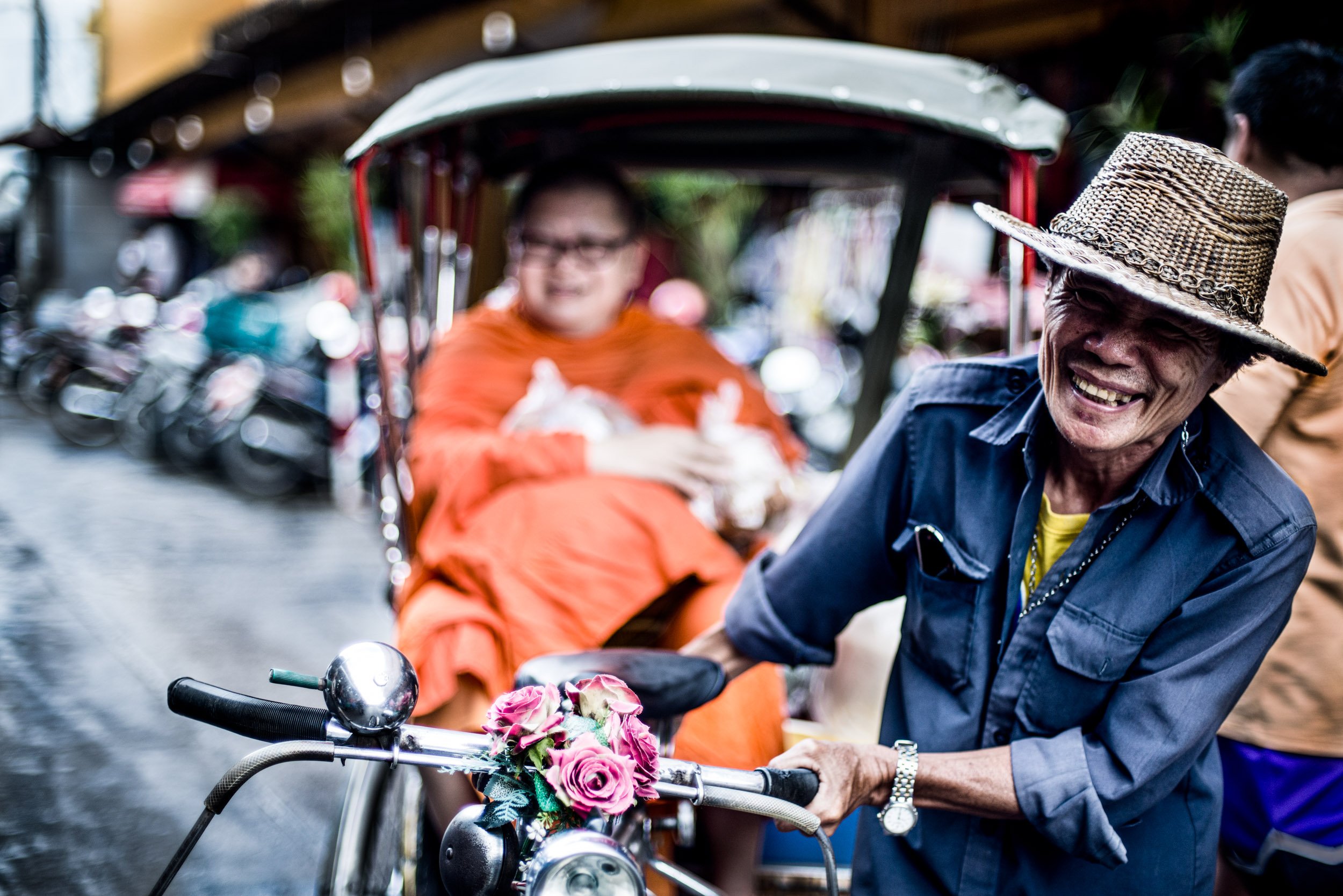 The Ultimate Guide to Street Photography in Chiang Mai, Thailand
Street photography in Chiang Mai, Thailand, is the best way to capture the essence of this wonderful northern city.
Chiang Mai is Thailand's second largest city, yet it's still easy to get around. There are many alluring locations to capture street-style photography in Chiang Mai. From the ancient old town to Chinatown's Warorot Market, and newer neighborhoods like Nimen and Santitium. You are sure to find tons of interesting subjects to photograph.
Walking the streets, or riding a bicycle, scooter, or samlor, you're experiencing life up close. Mixing with and meeting the locals, eating, shopping, and sightseeing. All these activities provide ample opportunities to capture the best street photography.
One thing I love most about street photography in Thailand, particularly in the north, is that people are generally friendly. More often than not the locals enjoy being photographed when you approach them wearing an open smile. Including people in many of my street photos helps add a depth of interest and character to the city.
In this article, I present some of my favorite street photography locations in Chiang Mai. I've also included some of my best street photography tips and ideas to help you make the most of your photography experience.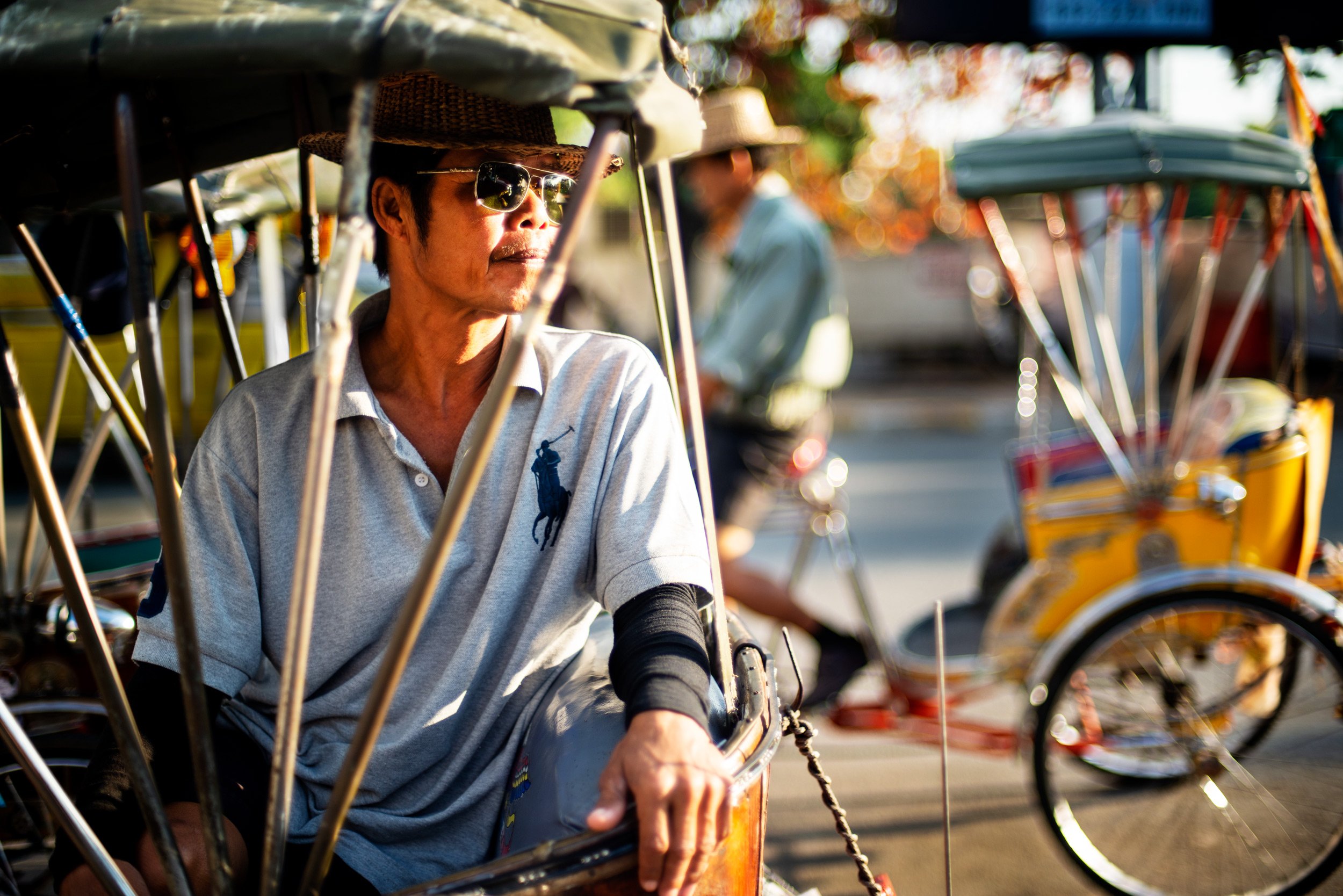 Best Locations for Chiang Mai Street Photography
Locations for street photography in Chaing Mai are varied. You can find locations with lots of locals busy with their work and places where there's hardly anyone on the streets. Within a relatively compact area, you can photograph old architecture and new. Modern style and old-world charm.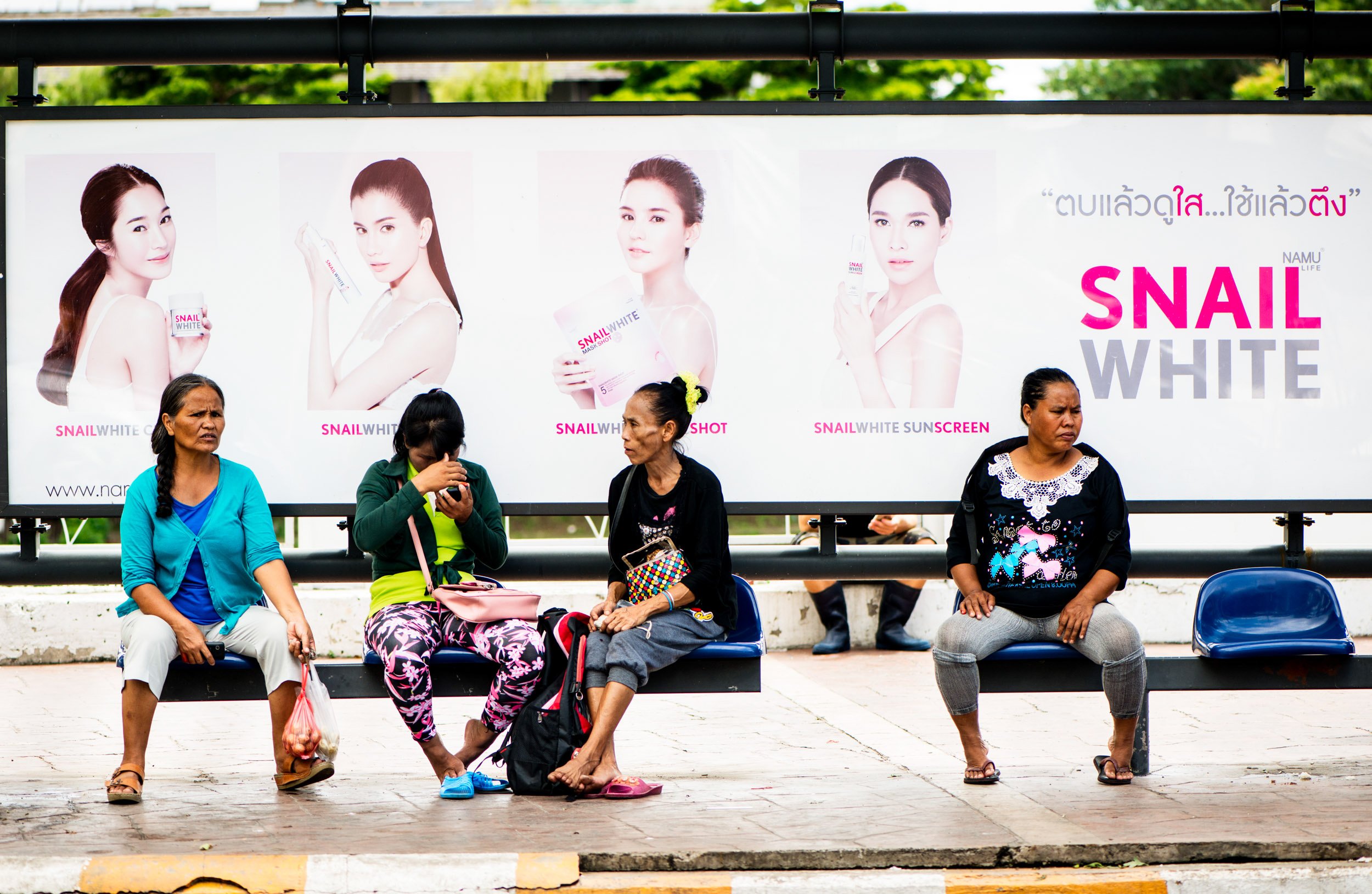 Chinatown/Warorot Market
Street photography often involves capturing candid and unposed images of people. When you know where to look, it's easy to find people to include in your street photos at any time of the day, or at night.
Warorot Market and the whole Chinatown area that surrounds it pulses with activity. Here you can capture the heart of Chiang Mai. This is where people have come to buy and sell food and supplies for centuries.
During the day there's always colorful activity beside the Ping River at the flower market. Further inland the streets and alleyways are jammed with street vendors and stores. They sell everything from fresh fruit to fish nets. Flash them a smile and show them your camera if you want to take a photo. Watch for their response so you know if you're welcome to do so. If they don't reflect your smile back to you, move on and find someone else to photograph. I love to demonstrate and teach photographers how easy this is to do during our Chiang Mai Street and Travel Photography Workshops.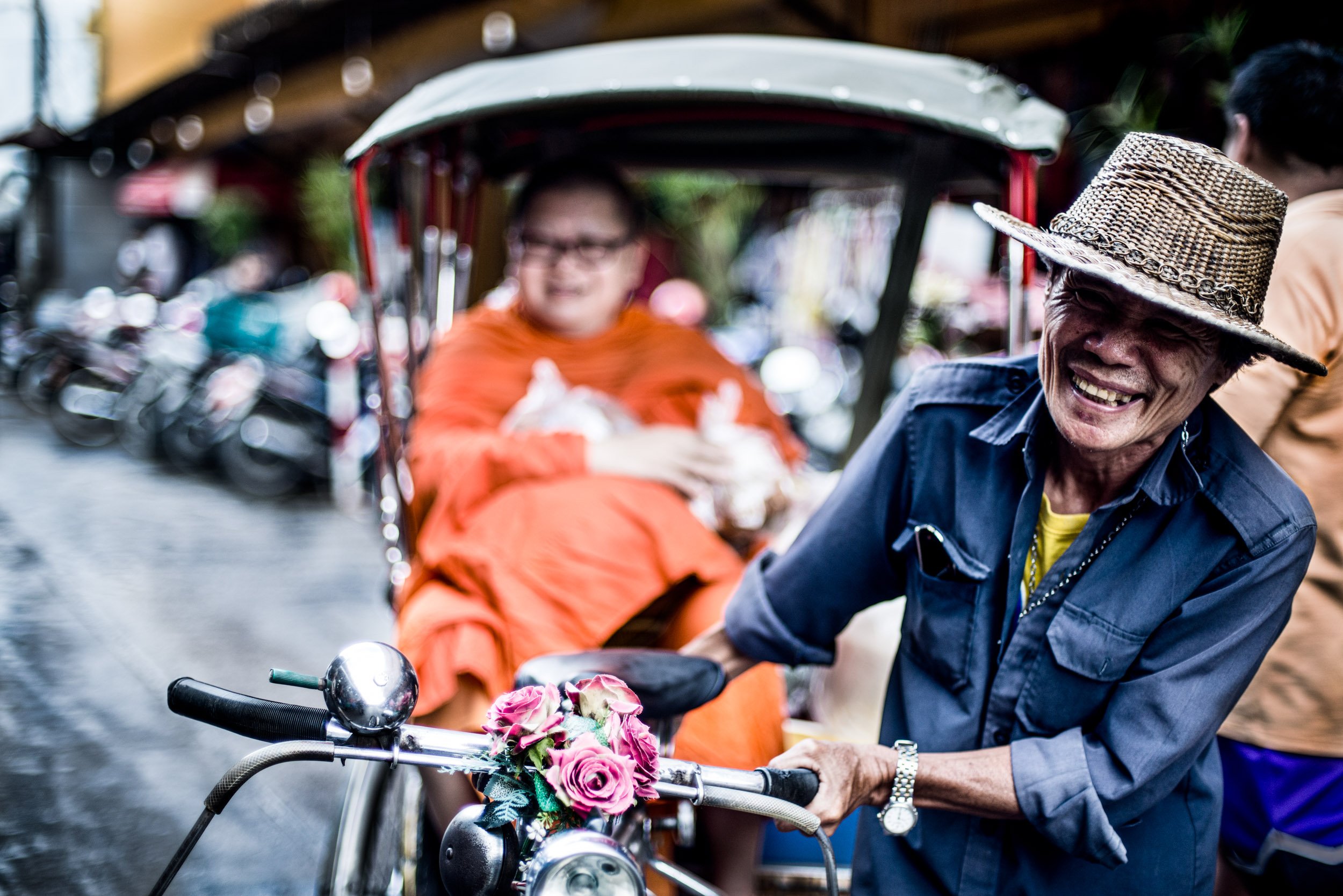 Muang Mai Fresh Market
Located a little further north alon the river is the sprawling Muang Mai fresh market. This is the largest fresh market in Chiang Mai. It's best to visit in the mornings when it's bustling with activity. 
Trucks loaded with produce arrive from the hill tribe villages to deliver seasonal fresh fruit and vegetables. Local homemakers and restaurant workers come to stock up. There's always plenty of color and loads of action to photograph. 
Investigate the main streets and the narrow alleys to discover local life in ways that most tourists never do. The more you explore, the more you'll find to take photos of. Look for people interacting. As purchases are being made, while gossip is being exchanged, os when goods are being delivered. It's at these points of interaction that you can capture some of the best facial expressions that add so much to a visual story.
Ta Pae Road and Gate
These are other areas where you'll see plenty of people out and about. But they won't be locals. The Ta Pae Gate area and along Ta Pae Road is popular with tourists. At any time you'll find people window shopping, feeding pigeons, taking a break under a tree, or photographing each other beside the moat.
The large red brick wall that separates Ta Pae square from the old city is a great main feature or prop for your compositions. Explore how you can use this classic structure and the surroundings to make some iconic Chiang Mai street photos. 
When you're ready for a bit of a rest, take a seat under one of the trees. But don't put your camera away. Sitting in the square, even for a few minutes, you'll start to see interesting situations to photograph. People feeding the birds or photographing each other. Vendors selling coconut ice cream or cold drinks. They are all part of street life in Chiang Mai and can make wonderful subjects for street photos.
Heading back along Ta Pae Road towards the river there's also plenty to see. Either stay on the main road or duck down the narrow alleyways that spread out to the north and the south. Here you are sure to find lots of interesting details of life in Chiang Mai.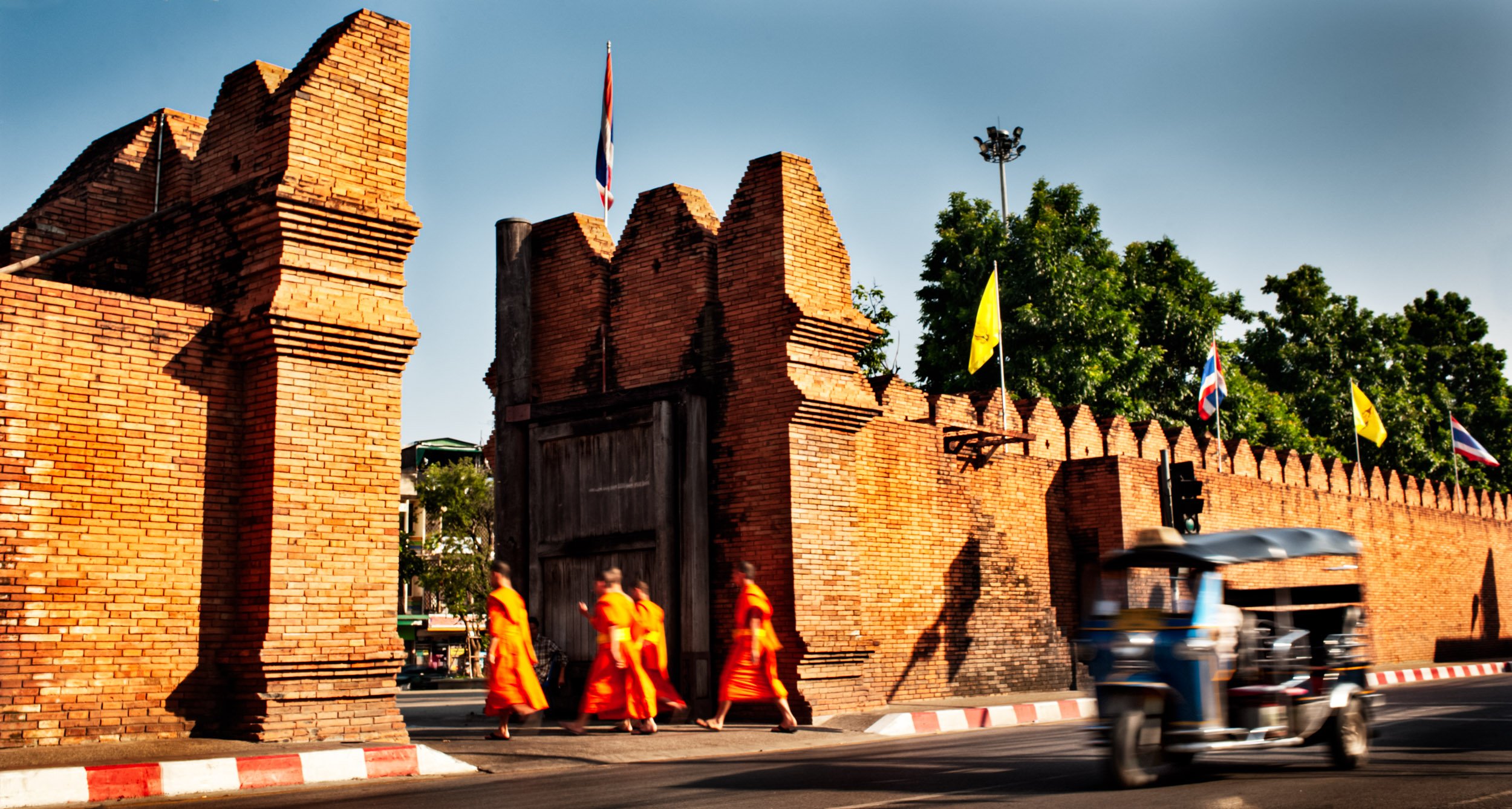 Inside the Moat
Inside the moat surrounding the old town there are some superb locations for street photography.
Some of the most popular temples are found inside the old town. Walk west from Ta Par Gate for about 15 minutes and you'll find yourself at the magnificent Wat Prasingh. Photograph the golden chedi and stunning Lanna-style architecture. Be polite as you mingle with locals who come to worship and leave offerings. 
Wat Chedi Luang and Wat Phantao are other famous temples to photograph in the old city. But there are also some lesser-known ones, such as Wat Chiang Man, which is the city's oldest temple. On the next block over there's also Wat Saen Mueang Ma Luang that's worth making a stop at.
Around this northeastern section of the old town there are many narrow alleyways. Here you'll find some great street art, local eateries, and coffee shops. Towards the southern side, there's Nong Buak Haad Public Park and the Kalm Village. Both of these locations are ideal for pit stops when you've already been out taking photos for a few hours.
Street Food Markets
Inside the south side of the moat and the outside of the north of the moat, you'll find street food markets. Every evening vendors set up their carts to sell pad thai, som tam, and a huge variety of other classic Thai street food.
At the Chiang Mai Gate on the south side, explore the open area in front of the market. If you arrive a little early, there's still plenty to photograph. Tricycle taxis, samlor, are usually lined up here as their riders wait for customers. These chaps are usually pretty open about having their portraits taken. Make sure to engage in some conversation with them and don't forget to show them the photos you take.
Across the street from there you can dive deep into the market. The light is pretty poor, so make sure to push you ISO setting up a bit higher. Once you pass through, you can often find interesting things to photograph in the alleyway out back.
Chiang Mai Gate Market location link.
At the Chung Phuak Gate to the north of the old town you'll discover more street food. The light in the evening at this market can be quite spectacular. As the sun sets behind Doi Suthep look for it reflecting off the moat and washing the surroundings in a lovely warm glow.
Chang Phuak Market location link.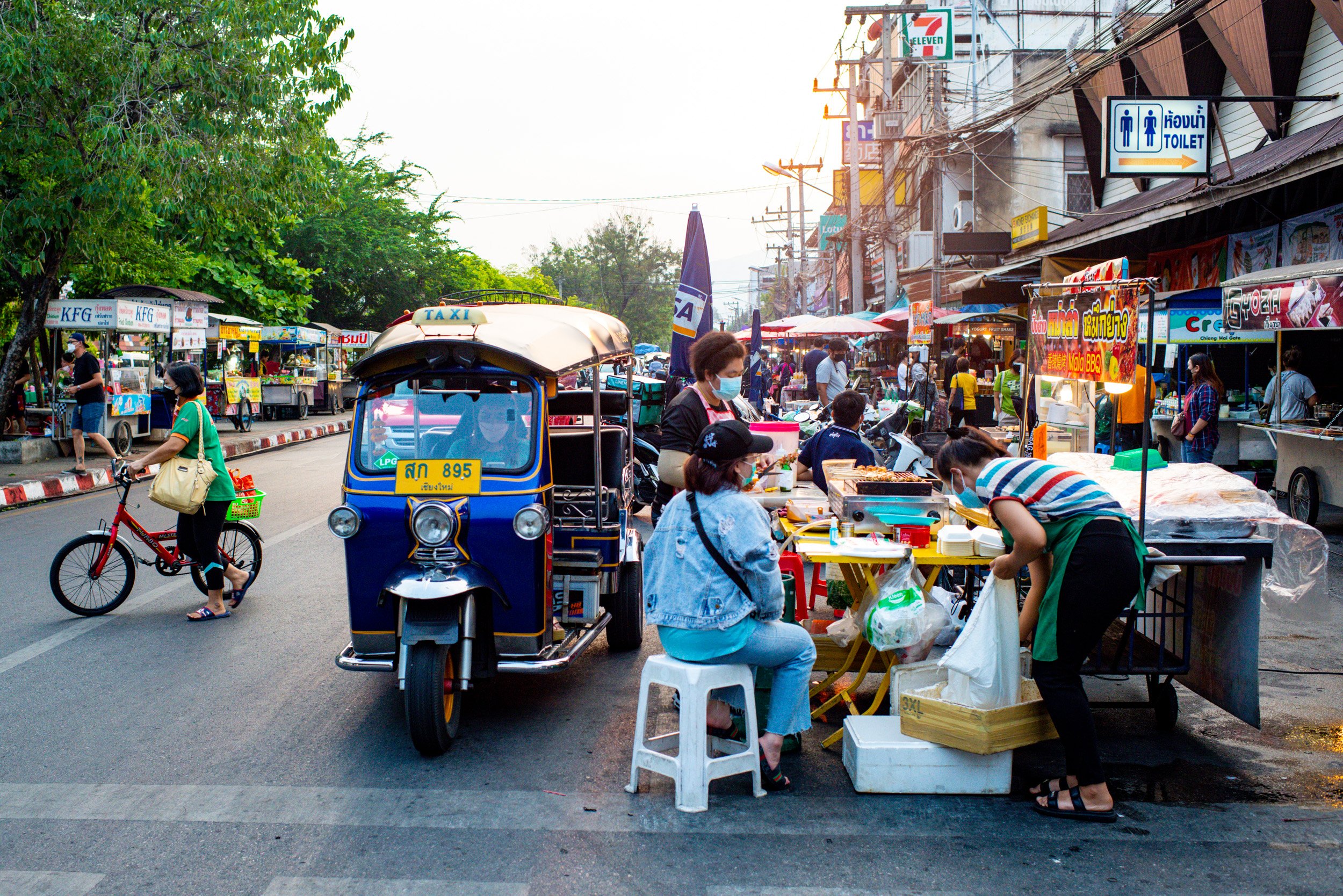 Santithum and Nimman
Head northwest from the markets at Chang Puak gate and you find yourself in the neighborhood of Santithum. This location is populated by students and has tons of small food stalls and bars. It's got more of a modern feel but still with a relaxed vibe.
Carry on in this same direction and before long you'll discover the Nimmanhaemin Road area. This is typically referred to as Nimman and is popular with digital nomads and the Thai cafe set. Nimman is a new part of town with lots of more modern architecture. Both in the daytime and at night there's always plenty of activity to photograph.
Old Neighborhoods Outside the Moat
Outside the ancient town walls there are a couple of notable older neighborhoods.
Walk down Wua Lai Road. Turn left or right into any of the narrow streets and alleys to discover real Thai life in Chiang Mai. This is an area known for its silver jewelry and artistic production. You'll find temples adorned with intricate pressed metal art and craftspeople making jewelry and decorations. If you're not sure where to find them, listen. You'll soon hear the tapping of hammer on metal. Follow that sound and photograph the artist hard at work.
Take the footbridge across the Ping River from the Warorot Market you're in the Wat Ket neighborhood. The narrow street that runs parallel to the river has side-by-side old shops and beautifully restored buildings. This neighborhood was once the location of the Borneo Timber Company and reportedly the oldest brothel in the city.
By day this sleepy neighborhood makes for a pleasant photo walk. Make sure to drop by the temple to photograph the gardens and architecture there. We frequently stop here during our Chiang Mai Street and Travel Photography Workshops. This is because there's such a wealth of interesting subjects to photograph. Stroll along the riverfront and stop for a coffee or a beer. If you linger there until evening you'll witness the area come alive as the bars and restaurants begin to open up.
Map link for Wat Ket neighborhood.
Street Photography Tips for Chiang Mai (and Beyond)
Whether you're exploring the fresh markets, stopping for coffee and cake in Nimman, or meandering through the old town on a rented bike, take the best pictures you can. When you find an interesting subject, stick with it until you're satisfied with your photos. 
This will be second nature to more experienced street photographers. But when you're new to this genre there are some street photography tips and tricks that will help you capture more interesting images.
Act Like a Magazine Photographer on a Street Photography Assignment
I often encourage students during my workshops to think and act like a magazine photographer.
Imagine you've been assigned a story by your magazine editor. Your job is to capture the most interesting aspects of whatever location you're photographing. Aim to show this imaginary editor (or your partner) a selection of photos that captures the essence of the location and who was there.
This entails taking a variety of photos. Don't think that you'll truly portray a place like Muang Mai market in a single frame. 
Look for wide-angle compositions that provide a general impression. 
Frame up some medium compositions to show the people and their interactions. 
Come in close to highlight the color, texture, and contrasts of the tropical produce.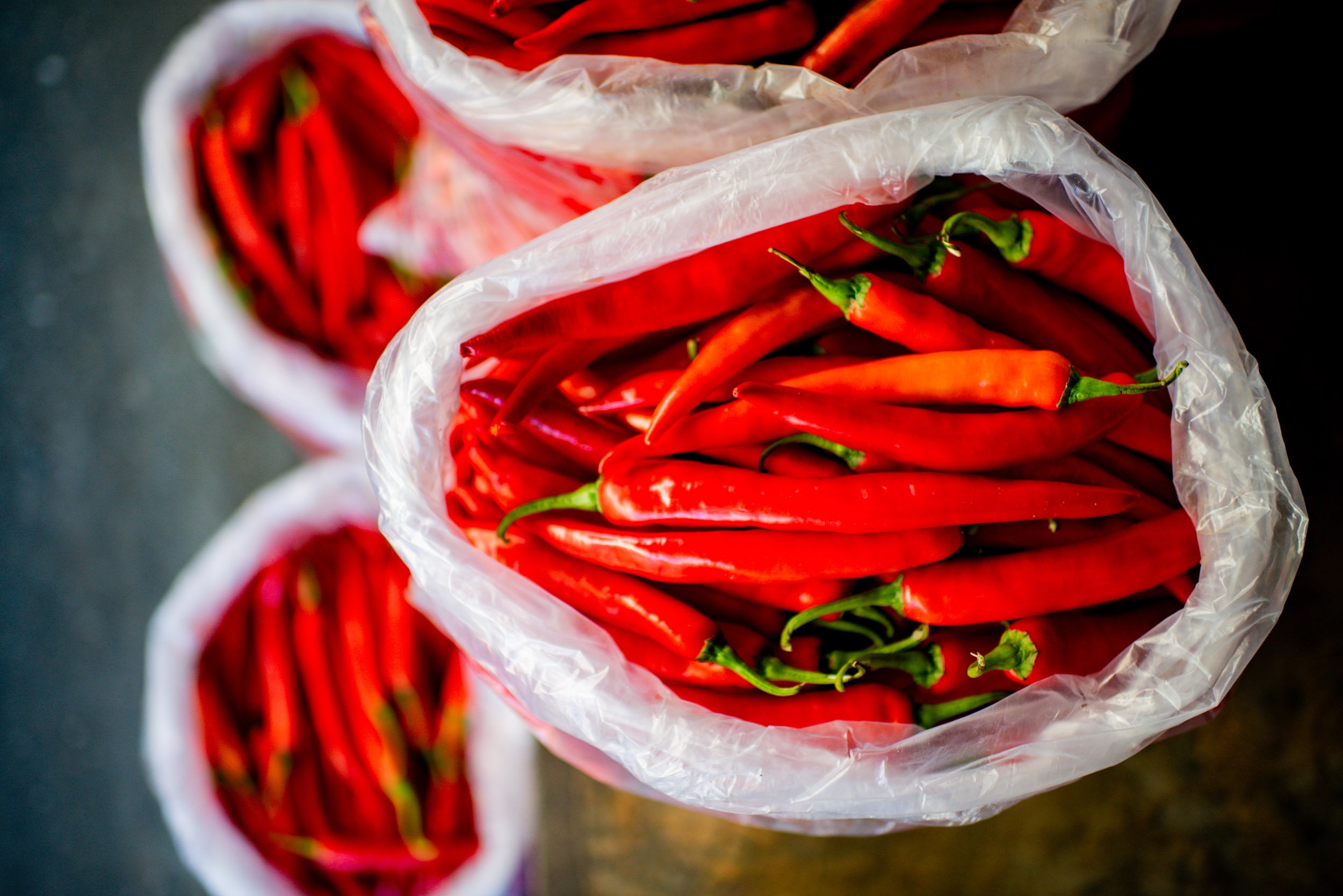 Capture Posed and Candid Street Portraits
The people are what makes a place. Don't come to Chiang Mai and remain shy of photographing the people. There are so many opportunities to make both candid and posed or semi-posed portraits.
I love to use my 35mm lens on my full-frame camera for street portraits. This angle of view allows me to be close enough to my subject to converse comfortably. And I can still include some of their surroundings in my compositions. You can learn more about how I do this here.
You don't have to rely on a long lens to make sneaky candids. Approach people and ask. Even if you can't speak the language, just show them your camera and your smile.
Be Relaxed and Confident Doing Street Photography
The more relaxed and confident you are when photographing people, the greater success you'll enjoy. With street style photography, especially of people, the more confident you are, the more positive photographs you'll take.
People reflect back to you their impression of you. How they perceive you often shows in their face. So, if you smile confidently, then the people you encounter are more likely to smile back at you. Certainly, this is what happens most frequently in Chiang Mai.
If you are not confident about doing street photography in Thailand, it will be more challenging to capture photos of smiling locals. Thailand is known as the 'land of smiles' so you're in the best place to capture the happy atmosphere. Particularly when you are contributing to it too.
If you tend to be more of an introvert, this may help you to approach people you want to photograph.
Pretend to Photograph Something Else
In Chiang Mai it's common that people will stop and smile when they see you taking a photo of them. They may hold something up or flash you a hand signal, making the photo look staged. These are not often the best street portraits.
One technique that I use is to take the posed photo. Then I'll show the person their photo on my camera. Once this has taken place, the person will go back about their work and I will wander off. After a few minutes, I'll return and photograph the person again. I already have their consent and I'll make it appear that I'm photographing something else. Keeping one eye on my subject I wait until they are busy and then continue to photograph them some more. This produces photos with natural expressions and activity. This works best with market vendors and people who are stopped in the same place for a while.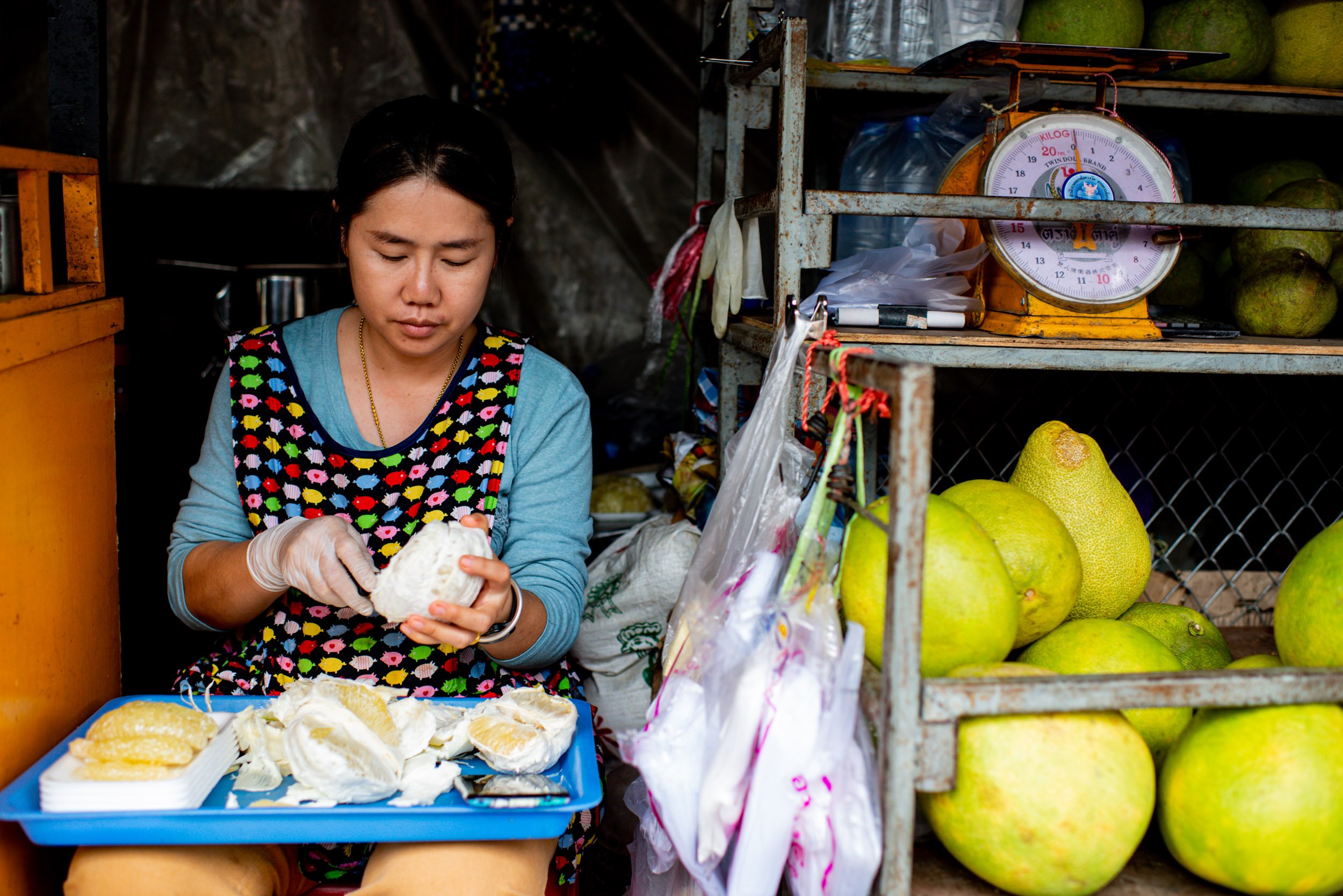 Work on a Project and Have Photos to Show People
Having a project to work on and photos to show people, helps your interactions. When someone asks why you want to take their photos, telling them it's part of a project you are working on can spark their curiosity. You can tell them your project is about photographing people working, wearing hats, or playing games. Whatever is relevant to the photo you want to make of them. 
Pull out your phone and show them an album of pictures from your project. Talk a little about what you're doing and why. Most people will be happy that you've invited them to be a part of your project.
Working on a project also helps you develop your own personal photography style. You can read more about this here.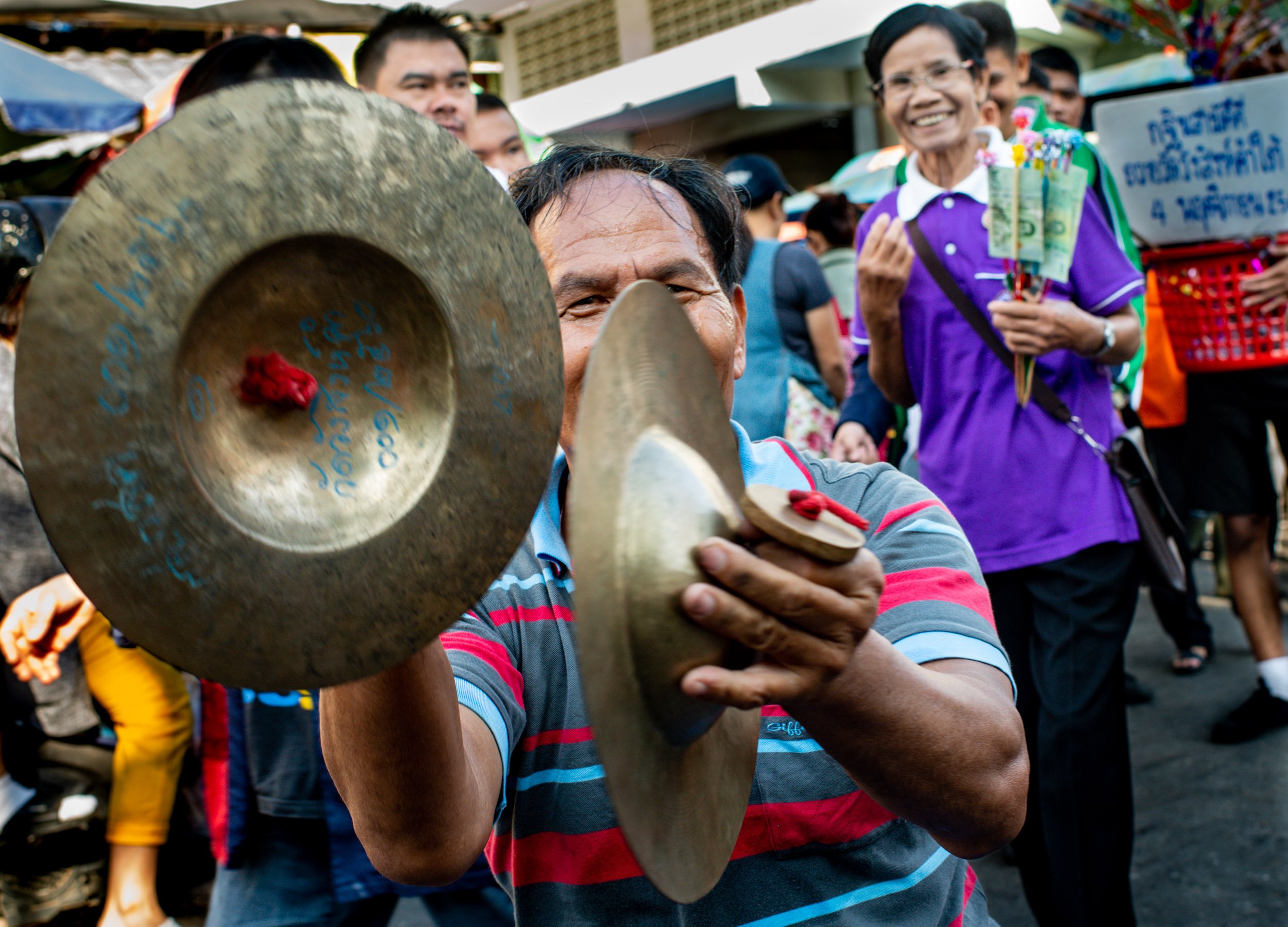 Choose the Best Camera Settings for Street Photography
The best camera settings for street photography depend on what you're photographing and the lighting. There is no set formula for the best camera settings for street photography. As conditions and subjects are so varied, it's impossible to set your camera and forget it when your goal is to take creatively interesting photos.
I typically set my shutter speed no slower than 1/125th of a second. But often prefer it to be faster. Especially when I'm photographing people. Any amount of movement will appear blurred if your shutter speed is too slow. 
Then I adjust my aperture to balance my exposure. If I want a shallow or a deep depth of field for a particular photo, then I'll adjust my aperture and distance from my subject accordingly. Once I'm happy with this then I'll adjust my shutter speed again so my exposure looks how I want it to.
My ISO setting is most often ISO 400 as it provides a good deal of flexibility without compromising on quality. If I move into a darker or brighter location, only then do I adjust the ISO.
To read more about this, take a look at this article.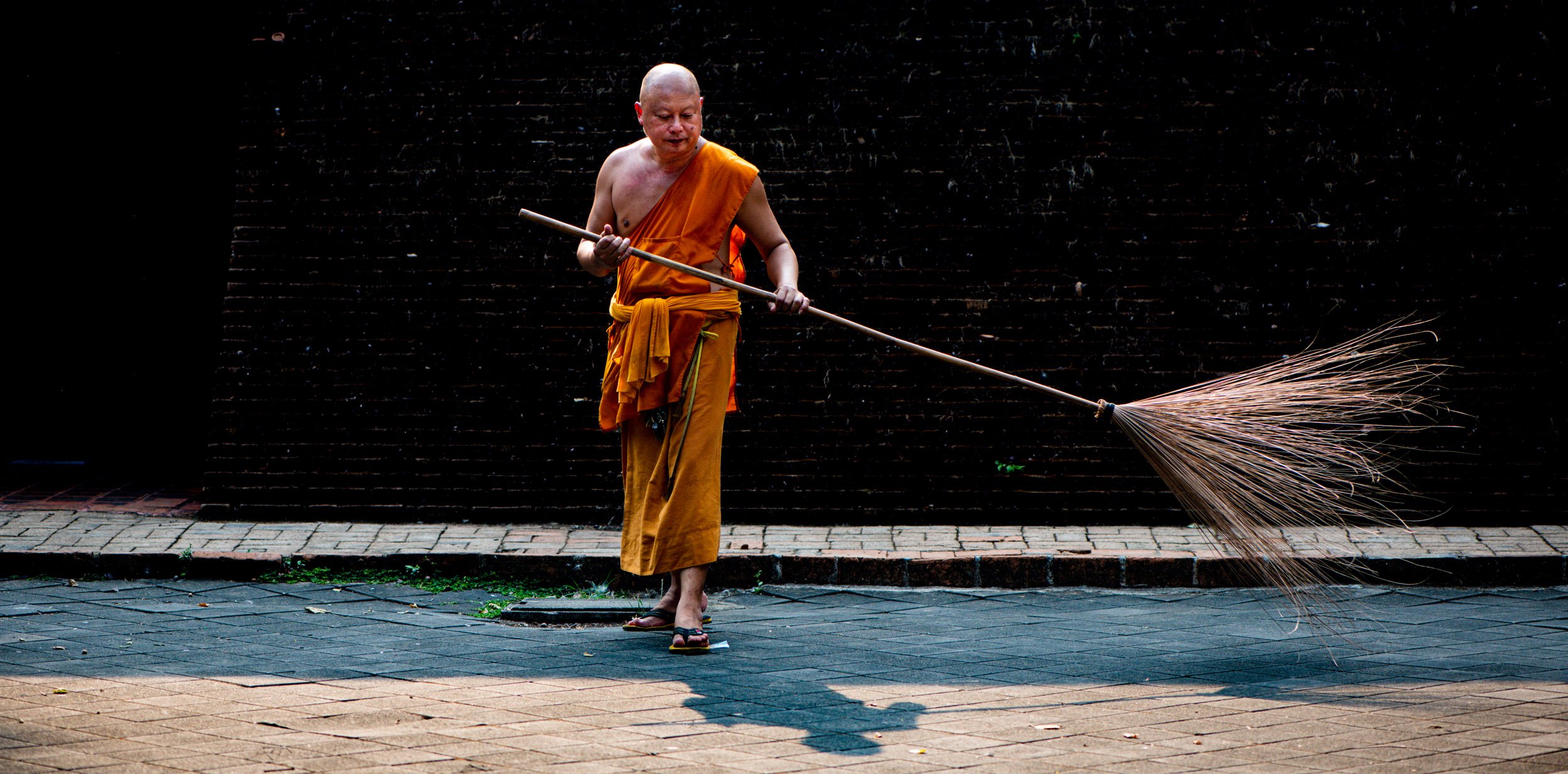 Explore and Remain Fixed in One Place
The temptation to see as much as possible of a location in the shortest amount of time should be avoided for the best street photography. Take your time. Don't be in a rush. The best street photographs are not usually snapshots grabbed in an instant. They are taken by patient people who observe their surroundings and wait.
Approaching a new location I'll scout out the area, or the immediate area if the place is big. I'm looking for activity to photograph that's happening in the best lighting. I also look for good, uncluttered backgrounds whenever possible. I prefer uncluttered street photos.
Once I've picked out a spot, I'll remain in it until I'm satisfied I've made the most of it by capturing some images. Then I'll move to another location and do the same thing. Waiting and watching familiarizes yourself with your surroundings. You'll see things you'd otherwise miss if you continued to walk past.
Finding suitable locations to remain fixed in for a while you must also be aware that you're not interrupting anyone's business. In markets and the like, don't stand too long beside a vendor's stall. They may be concerned that their customers will pass them by if you're blocking the way. Position yourself a little off the main thorofare, but not so far away that you can't see the action.
Here's another perspective on this topic.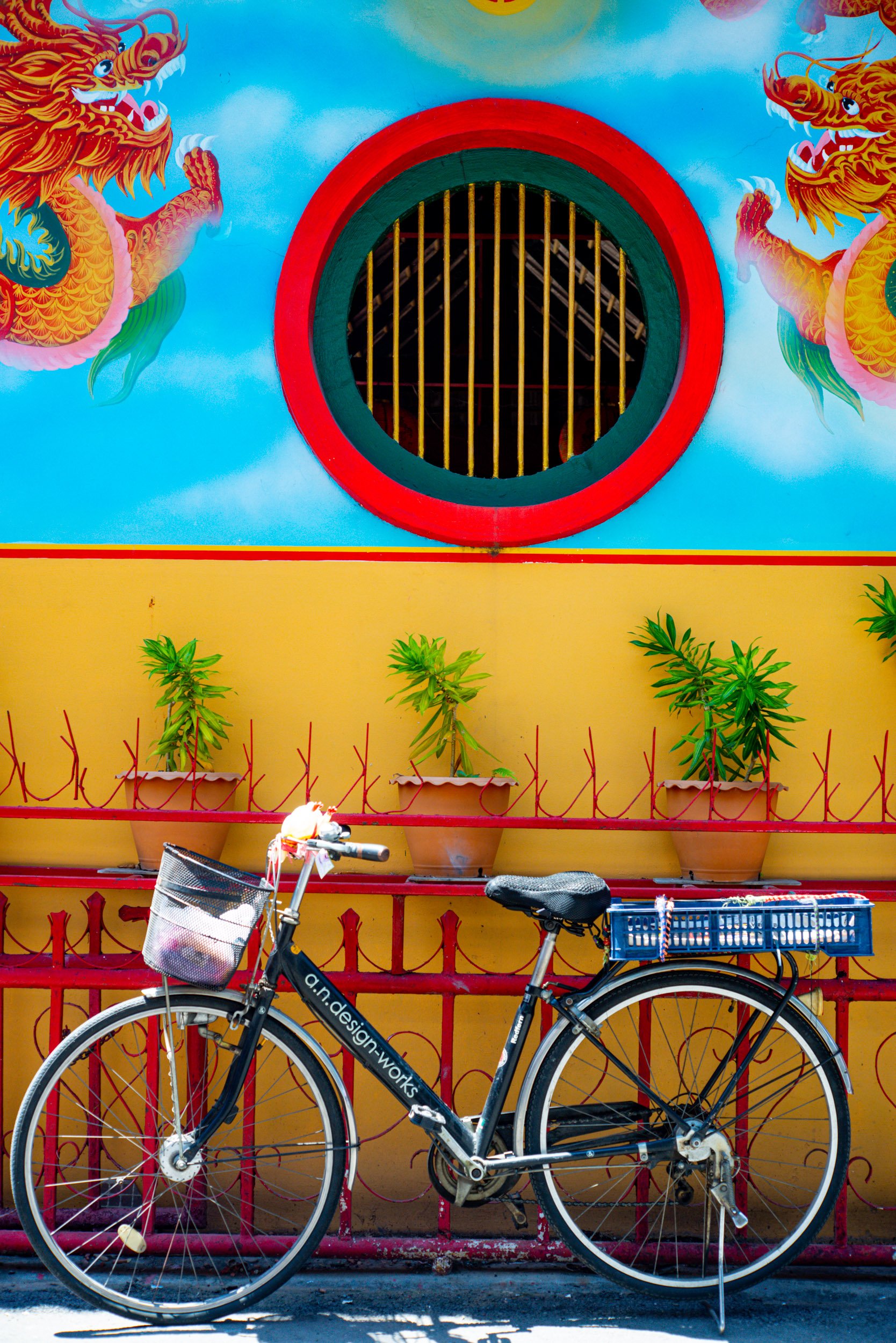 Be Patient and Wait for the Decisive Moments
The decisive moment is a topic that often comes up when discussing street photography. This term was coined by the French photographer Henri Cartier-Bresson and refers to the moment when any action is at its peak. This is the best time to take a photo. 
Many factors come into play when choosing the best moment to make a street photo. There's often movement and activity of different kinds in street scenes. Observe a location before you bring your camera to your eye. This often helps you decide what is most interesting to include in your composition.
The best moment to take a photo may require waiting until the background is clear. Or the butcher's knife is raised and about to chop down on a cut of meat. In markets, the point of purchase where money and produce are exchanged makes for a good moment to take a photo. Whatever you decide is the most interesting action taking place, wait for it and frame it well.
Good timing is one of the essential aspects of every great photo. You can read more about this and the other four things that make up every good photograph in this article.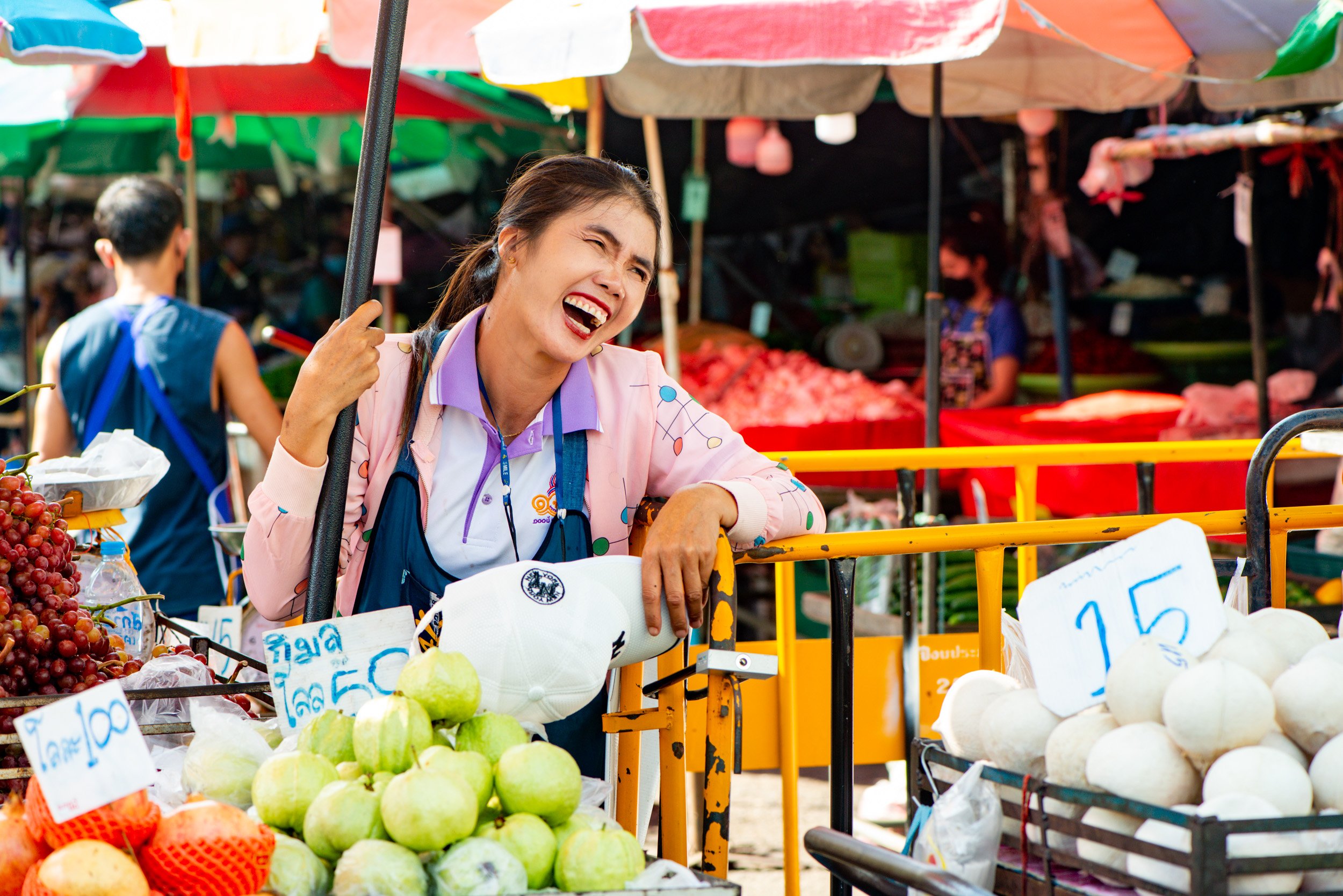 Learn Street Photography and Travel Photography
If you're visiting Chiang Mai, make the most of this opportunity to take one of our street and travel photography workshops. You'll get to some of the best locations for street photography in Chiang Mai and receive valuable instruction and introductions.
As we walk together you will become aware of more opportunities and notice otherwise hidden gems. Our sessions start at 8:30 am and finish around 3 pm. During this time you'll experience life in this charming city with fresh eyes. You'll come away from the day with tons of interesting photographs that will enliven your portfolio.
If you've enjoyed this article, you may also like to read this one