How To Choose Between a Thailand Photography Workshop or Tour
It makes good sense to take a Thailand photography tour or workshop. But you may not be sure of which will suit you best.
Photography, when you travel to Thailand, is essential. This country is full of visual culture and compelling smiles. It's difficult not to take photos.
Everyone wants to know what makes a good photograph. We all want to take the best photos of our travels in Thailand.
To make things clear I will focus this article on my experience. I have lived in Chiang Mai since 2002 so will write about Chiang Mai photo tours and workshops.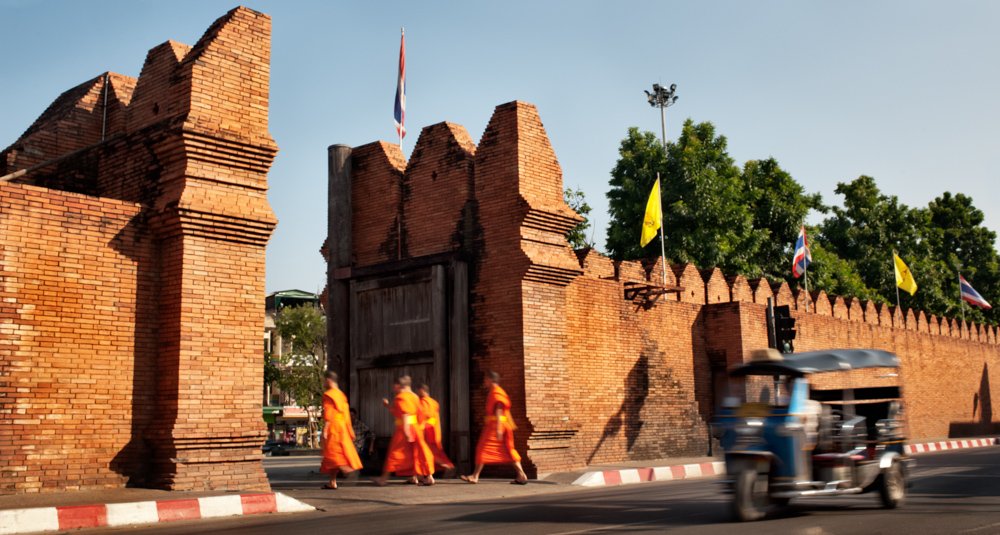 Chiang Mai Photo Tour vs Photography Workshop
Thailand photo tours are typically a guided group visiting interesting locations. These places will have potential photo opportunities. A Chiang Mai photography workshop incorporates teaching and interesting locations.
The main difference between a Thailand Photography workshop or a tour is what you will learn. A tour is often guided by a person with little photography knowledge and who will not teach you. A photography workshop will be headed up by a photographer who is a skilled teacher. They will also have a good local knowledge. The best leaders will also have built relationships with the people in the locations. This means when you accompany them on the workshop you'll learn what makes a good photograph is more than using your camera. It's also about relating to the people and being familiar with the places.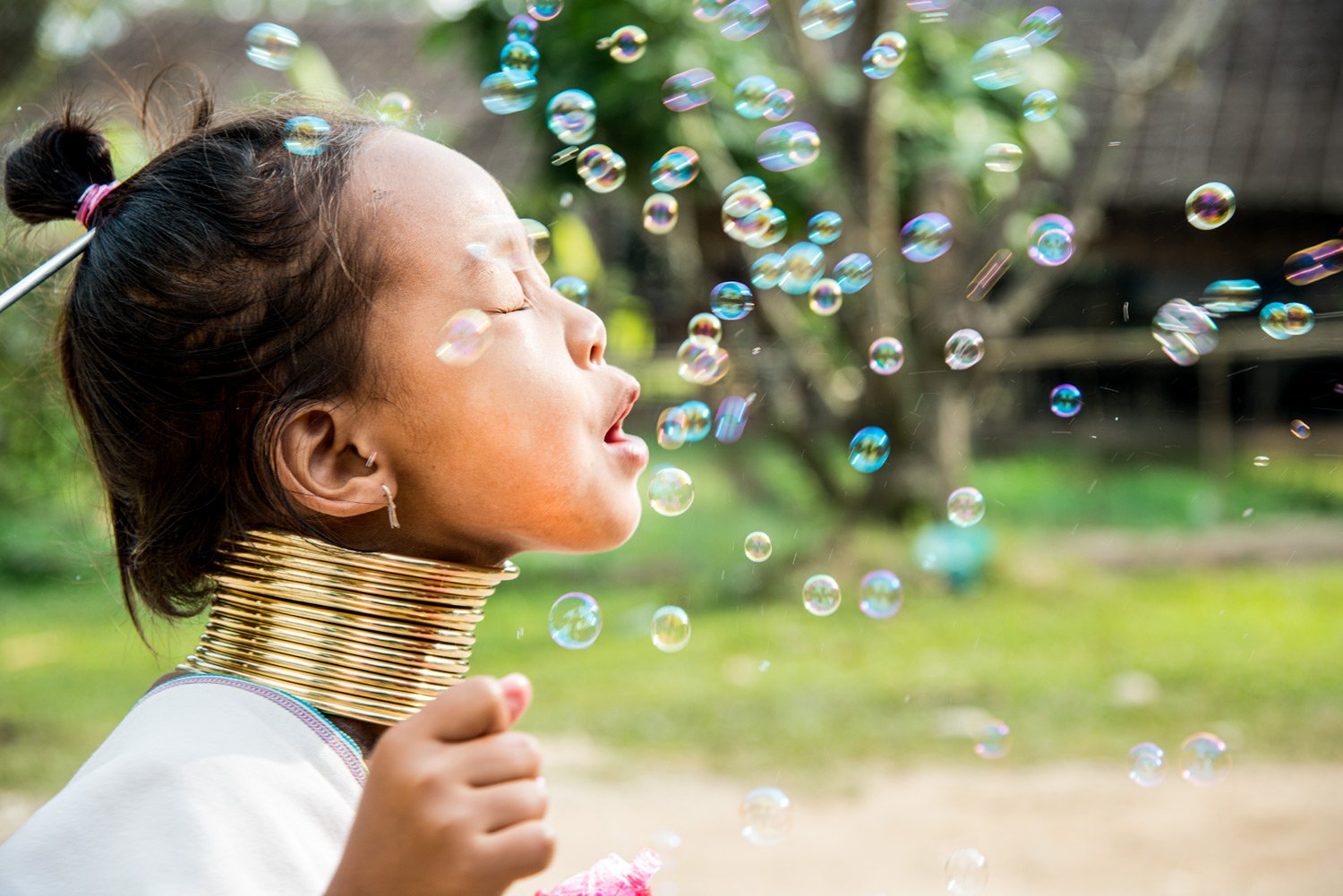 Thailand Photography Workshop or A Tour?
During a Chiang Mai photo workshop, you will experience more than you will on a tour. Every location we visit we have made it our business to engage with the local people. We've built relationships with many of them. This means that anyone coming along with us will benefit because the people we encounter are more relaxed with us.
Tour guides often only interact with locals to gather information. They may ask questions or relay questions you have to learn something. Most of the time there is little or no relationship. On a photo tour or workshop, it's important to interact. When you do, the photos you'll take will be more vibrant and meaningful.
Here's an article I've written about one family we've built a special friendship with.
Photographing People
In Chiang Mai photography of people is much easier than in many parts of the world. People are relaxed and friendly, even if you don't know them. Part of learning to photograph people is to recognize which people will most likely respond well when you ask to take their photo. This is one non-camera skill we focus on when teaching our Chiang Mai photography workshops.
During our workshops you will learn more about using your camera than you would on a Chiang Mai photo tour. We teach at every level, from beginner through to advanced. Because our workshops are small we can offer each person direct attention during the day. We only take between one and four people per workshop.
On a photo tour the price may be cheaper, but group size is larger. You will not receive the same level of attention or tutoring, (if there's tutoring at all.) In Thailand photo tour guides will not usually teach any camera technique. They will just point out what they think is interesting to photograph at each location.
Taking A Photo Workshop Improves Your Travel Photography Forever
On a Chiang Mai photo tour you'll probably take some nice photos of the places you visit. During a Chiang Mai photo workshop you'll not only take great photos on the day, but you'll learn. We'll teach you techniques for travel photography that you'll take with you everywhere you go. By investing in a photo workshop you are investing in improving your photography from that day forward.
A photo tour limits you to taking nice photos on the day. A photo workshop equips you to take great photos wherever you travel. It includes tutoring about how to use your camera and be a better photographer. You will learn what makes a good photograph and how to choose the most interesting subjects at any travel destination.
In Chiang Mai, photographers are easily stimulated by the character of the city and surrounding countryside. This place is a photographer's paradise. It can still be challenging to get great photos of some iconic images.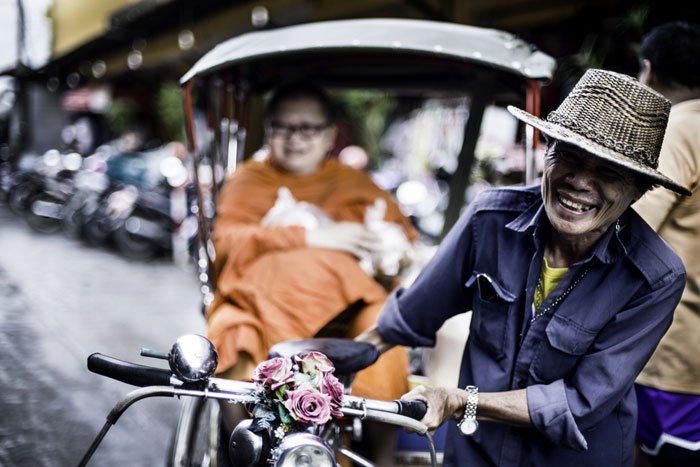 What to Photograph in Chiang Mai
Often people ask if it's okay to photograph monks. How can we take the best photos of temples? Don't forget to make an interesting image of a tuktuk while you're here. What are some other classic aspects of Chiang Mai to photograph? A Chiang Mai photo tour guide may help you with some of these questions, but they will not teach you how to get the best photos of them.
Taking a Chiang Mai photography workshop near the beginning of your stay sets you up for a better travel experience. Often we have customers who revisit the locations we take them too. Later in the week, after they've taken the workshop, they'll return and work on the skills they learned. When they move on to other places they take these skills with them. They continue to apply them because they know what makes a good photograph.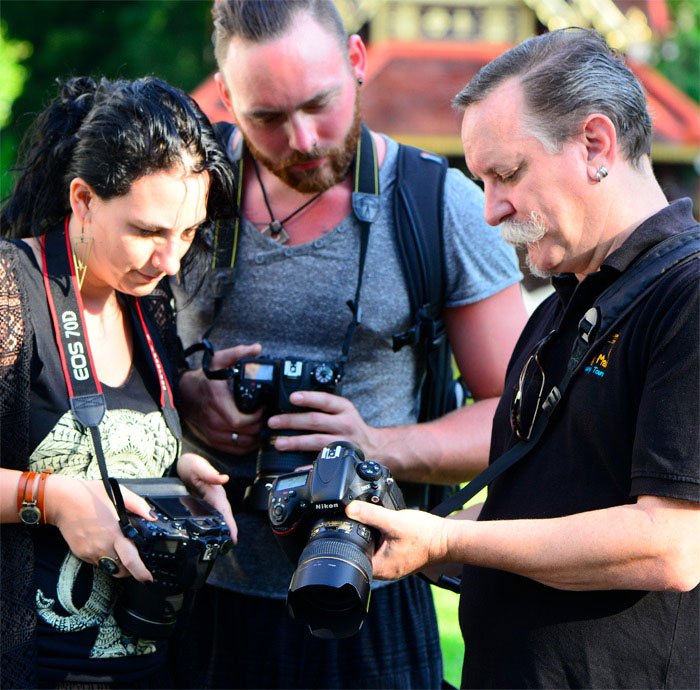 Research Style and Reviews of the Photo Workshop Tutor
Look at the photographs the teacher of the workshop takes. Do you appreciate the quality and style? There are many genres of photography. If a tutor is clearly not displaying the type of photography you want to learn they may not teach you much. Love their work? Then make a booking!
Look at what other people are saying about their photography workshop experience. Are there good honest reviews available? Travel reviews have become one of the staple ways people research. They help you learn what's worth spending time and money on. Look for clues in reviews as to the overall experience people have during a workshop. What did they learn? Was the instructor knowledgeable and personable to be with? How was the lunch and transport?
Who's Leading Thailand Photography Workshops and  Tours?
Some companies are in business to sell seats. Others are more personal and provide professional, individualized services. A tour might just be a trip to see some nice sights and have little to do with photography. A good workshop will have it's whole focus on photography.
Hired tour guides can lack enthusiasm and photographic knowledge. A freelance photographer can have years of photography and teaching experience. They are far more capable and passionate about what they do.
Often you'll see big names on photography tours run by magazine companies and the likes. They can be more expensive and not necessarily better. Bigger companies can tend to incorporate promotion of sponsored products into the day. This then detracts from tutoring quality and time. Read the comments below this article on DPS.
Finding a photo workshop tutored by a seasoned professional is important. You want to take a workshop with someone who can answer your questions. Taking a photo tour with an inexperienced guide will leave you frustrated and none the wiser. Being part of a larger group will also leave your questions unanswered. A workshop leader who relates well to a small group will teach you more.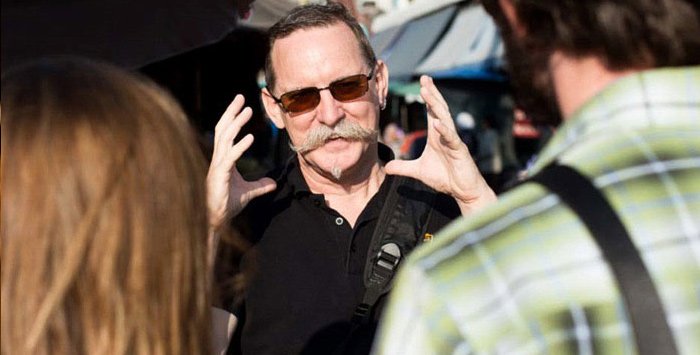 What is a Travel Photo Workshop?
The goal of a travel photo workshop is to improve your photography skills and experience some interesting locations. The main focus is on teaching, not location hopping.
A good travel photography workshop will include:
Fewer participants
An experienced leader
Quality photography teaching
Personal attention and answered questions
Slower pace than a tour
Relationship and interaction with locals
Better value for money
Teach you to take travel photos anywhere.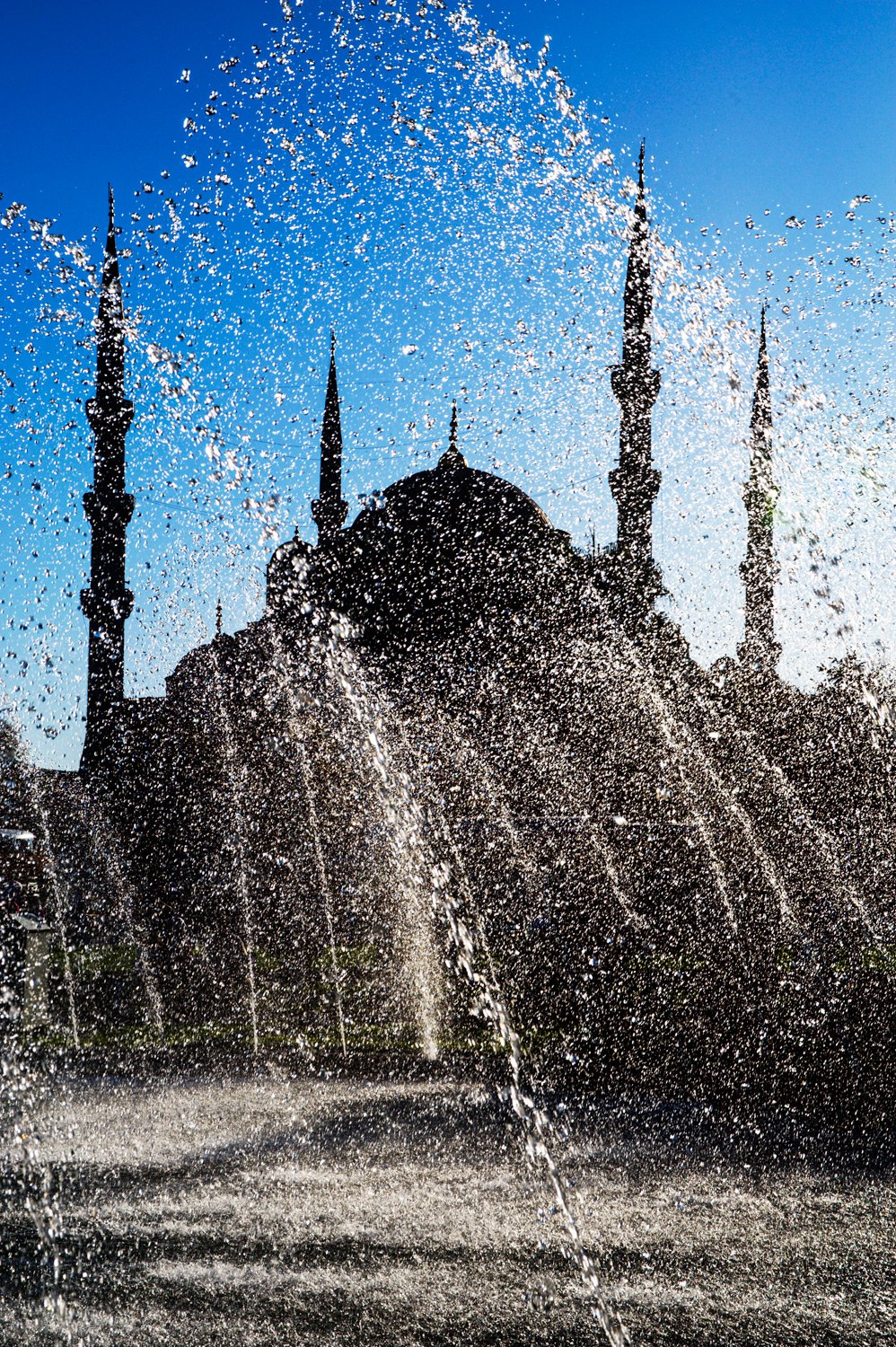 What is a Travel Photography Tour?
The goal of a travel photography tour is to present various locations where you can take interesting (or clichéd) photographs.
A travel photography tour will include:
Lots of other people
A guide (possibly with little or no photographic knowledge
Little or no teaching
No personalized attention
Faster paced than a workshop
No real relationship with local people
Cheaper price
Some nice photos from the day
Why Take a Photography Workshop or Tour When You Visit Chiang Mai?
Chiang Mai is a visually stimulating city. The surrounding countryside and travel locations are also wonderful. Taking a photography workshop with us when you visit will set you up. Not only for great photos on the day, but for a lifetime of travel. After taking a Chiang Mai Photo Workshop you'll be better educated and equipped to produce more interesting photos of your travels.
You don't need to worry about how you'll retain what you learn. For everyone who takes one of our workshops I give a free enrollment to my online course. 'Master Your Camera – Master Your Creativity' is a back up resource. It covers much of what is taught during our workshops and more. Once you're enrolled you can make endless use of this resource. Refer back to it any time you need a refresher on the photography teaching.
What's best for you? A Thailand Photography Workshop or Tour? Taking a Chiang Mai Photo Workshop you'll learn to make the most of your camera. You'll also learn how to relate to people you want to photograph and many other 'non camera' aspects of travel photography. At lunch you will also experience delicious Thai food at one of our favorite restaurants.
Fill in the form and ask your questions
If you're wanting to book a workshop please include the date(s) and the workshop you are interested in. We'll email you back shortly.
For pricing and details please keep scrolling down this page.