How To Take the Best Pictures in Thailand
Taking pictures in Thailand is a must. I could not imagine how anyone could come here without a camera. Whether you are enjoying Chiang Mai attractions, exploring Phuket Island or appreciating temples in Bangkok you want to be taking the best pictures you can.
Just because your subject it exotic and interesting does not mean you'll take a great photo of it. To really have your travel photos from Thailand stand out on Instagram, Pinterest or your other favorite social platform you need to put some thought into them.
Thailand abounds in fabulous photo opportunities. It seems that everywhere you turn there's something to take a snapshot of. But you want more than snapshots from the famous Buddhist temples in Thailand and the other colorful and fascinating things you'll see here.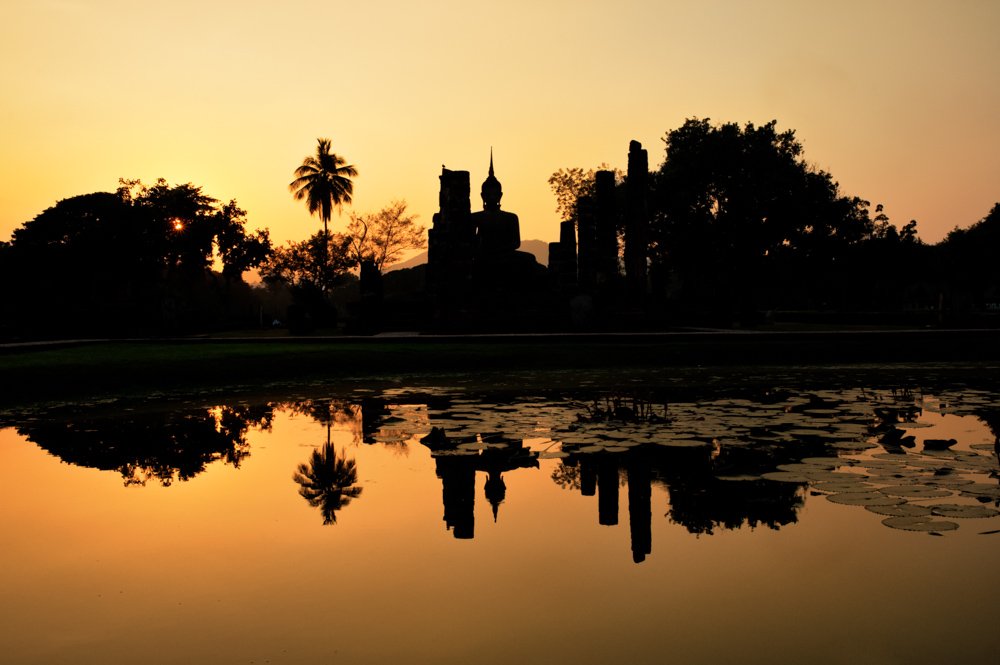 Take Your Time
This is about the best photography advice that everyone can do, no matter what camera or phone you're using. Capturing the essence your adventure requires you to pause and record not just a tourism image, but to include some feeling. Why are you taking the photo? What has drawn your attention to your subject? How can you make a two dimensional image of what you're encountering? Are you taking pictures in Thailand that truly reflect your experience?
Don't feel pressured into having to move along quickly. Consider the photo you want to make. Even if time is short you'll come up with better results if you give yourself the freedom to think though the photo you want before you take it.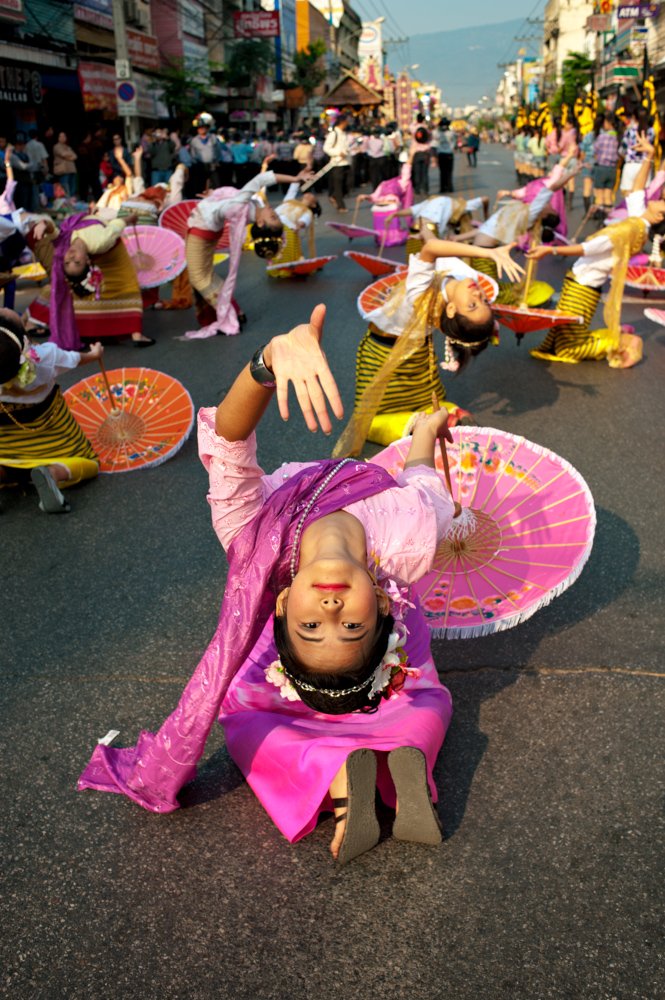 Look For the Most Interesting Angle
The most obvious place to stand to take a photo of a temple in Bangkok or the Big Buddha in Phuket is not necessarily where everyone else is standing. If you do, you'll only end up with the same pictures of Thailand they all have. Your's will never stand out in the crowd.
Look at where the light is. Think about how you can show off the most interesting or unusual aspects of your subject. Tourism images of Thailand, or anywhere else for that matter, are often rather bland and uninteresting. You can do better than that.
Check out the background. What's behind your subject that will distract from it? Finding a clear background can be challenging but it will help make a better photo. Sometimes it can be just a matter of changing your point of view slightly. Move to one side or the other. Squat down low and look up. Changing your position to make your subject stand out will make a stronger photo.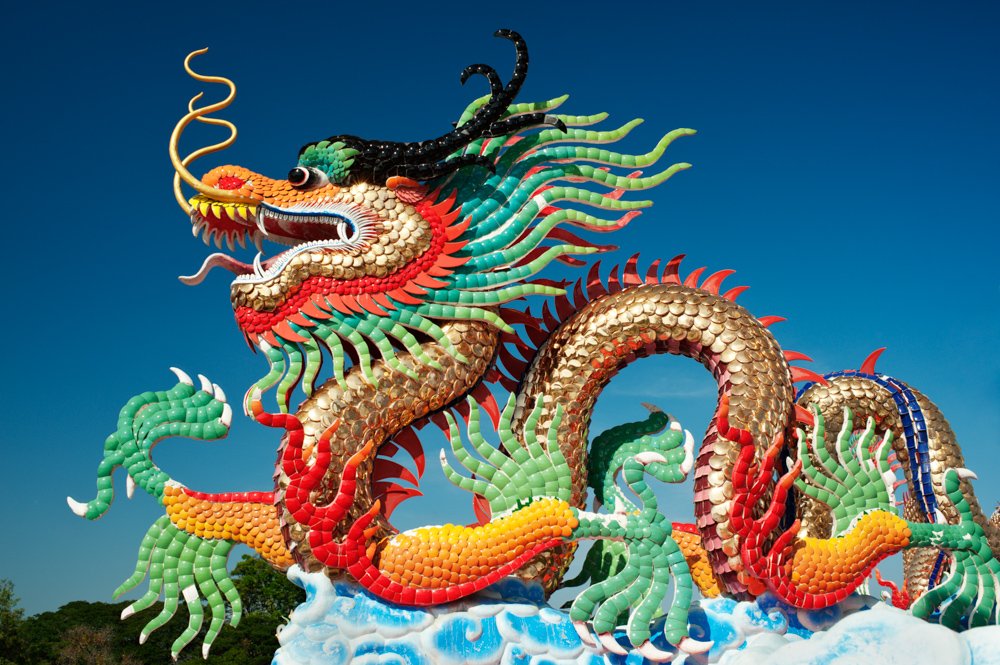 Sometimes you'll have few options, so look for an interesting element to add to your photo. Wide landscape scenes often work best when there's some point of interest in the foreground to feature in your photo. Don't just take one or two pictures. Make as many as you feel have captured the location, with and without added elements. You can decide later which are your best photos.
Hot Spots and Hidden Gems
Seek out the best. Sure, you got to get the photos of ancient temples in Bangkok and Chiang Mai. Leaving Thailand without photos of monks and tuk tuks is unthinkable. Palm tree sunsets in the south, history and tradition in the north. And of course there's Kao San Road.
You are sure to get great photo opportunities at the really classic tourist places. But don't rely on your subject only otherwise you can still end up taking boring photos. Think about these things and try and make as many of them work well in each picture you take:
Timing
Composition
Color
Lighting
Whatever your subject the more of these elements that you can include, the better the photos you will have. These are the elements that make a photo great.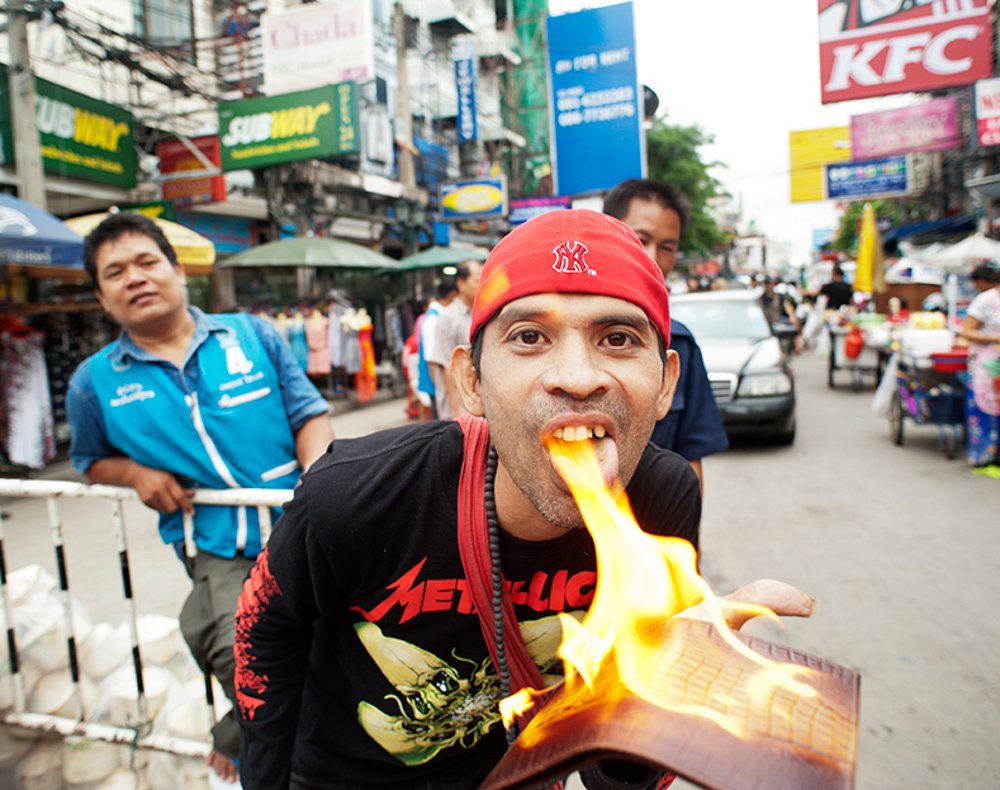 Find Interesting and Unseen Places
But don't neglect the hidden gems. Thailand is absolutely full of them and they're often not that well hidden. During our Chiang Mai photography tours and workshops we love to take tourists to some of the most interesting 'unseen' places we know of.
Mixing with the locals away from tourist areas is so much more fun. You'll get to take photos that most foreign tourists in Thailand will never experience. Out of the way Buddhist temples which are not overcrowded with people taking selfies. The best local markets where you'll not see many white faces. Back streets and byways are the canvas when you come on a Chiang Mai Photo tour.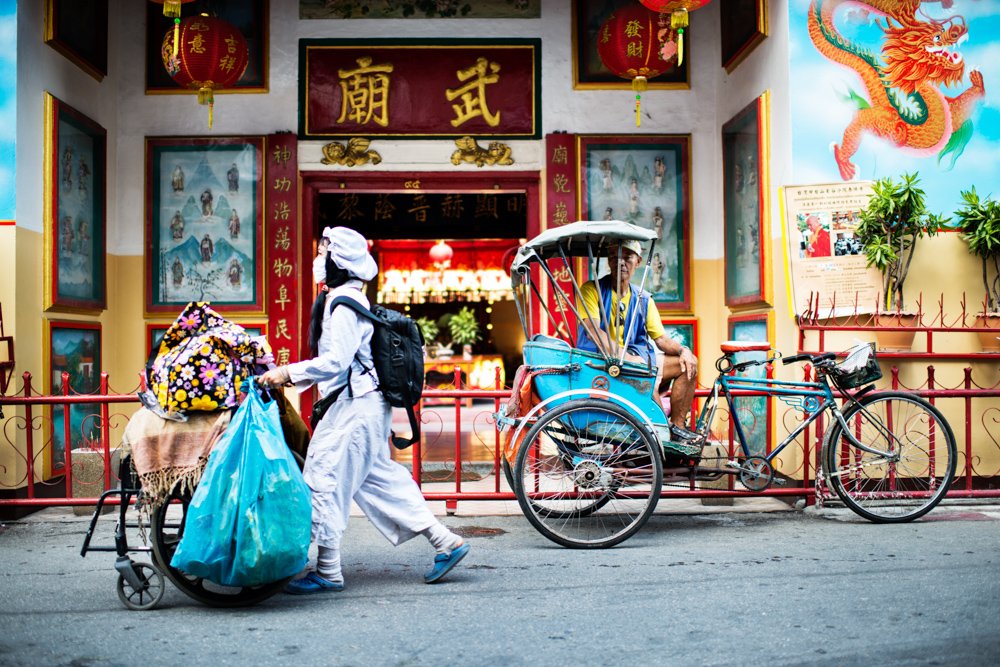 Coming to new locations it can be a bit overwhelming to know where to start. You may not have enough time to spend taking photos in Thailand, but make the most of the time you do have.
Limit your options. Niche down to just one or two subjects or follow a theme. The first time I visited Chatuchak market in Bangkok I was flying back to Chiang Mai in the afternoon. No way did I have enough time to experience the whole weekend market. I decided to only photograph food vendors and mannequins.
I'd found myself in the clothing sector and there were all these awesome crazy mannequins outside most of the shops. They are not the run of the mill subject maybe, but they are distinctive and certainly fun to photograph. I did get some funny looks from people.
Make Original Travel Photos
Start something new. Don't only follow along with social media trends and what's currently hot. It'll be old and tired before you know it. Adding your own style to your photos will make them more personal and interesting.
People like to be able to see an expression of who you are in your photos. If you just go about copying what others are doing, your photos will blend in with everyone else's.
Taking your camera setting off auto will also help you make more interesting photos. Most people let their camera do the thinking and make choices about exposure. This means most photos will turn out pretty bland because cameras do not think for themselves.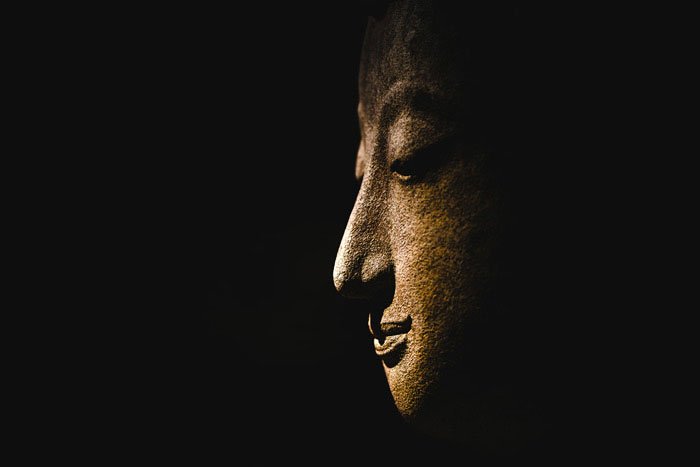 The artificial intelligence in cameras is fantastic, but it is not creative. You are. If you want to control the way your photos look you need to control your camera. The best exposure needs to be chosen by you, not your camera.
Cameras are programmed to level out light and tone and find an average for everything. This results in most photos taken on auto exposure settings look pretty dull. I can look through an album of photos and know if someone has made them using an auto exposure mode. They have a look about them.
Experiment. You have more time to when you are traveling. Take a workshop if you aren't sure how to use manual mode.
Taking a photography tour or workshop while you're on vacation is a great day out. Not only will you be shown some of the best locations around, but you'll learn to become more confident using your camera.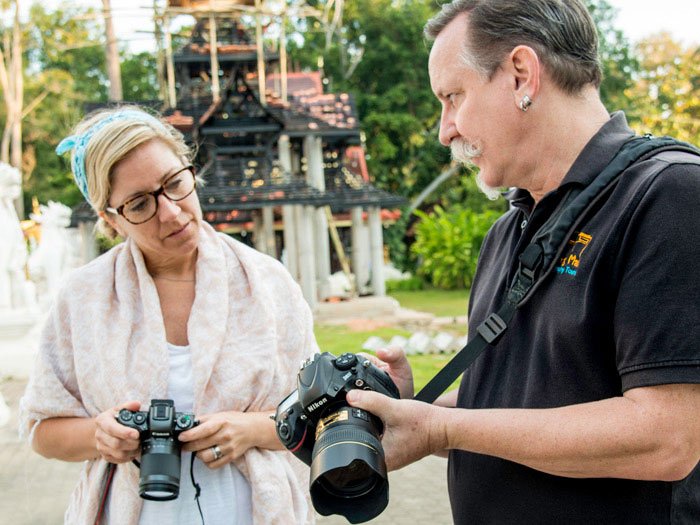 Book a Chiang Mai Photo Tour or Workshop
At Chiang Mai Photo Workshops we love to encourage people to really master their cameras. Most of the people we teach come with their camera set to aperture priority. Some tell us they switch to manual mode sometimes but do not really understand it.
Taking photos in Thailand, and anywhere, is so much more interesting when you are confident with your camera. During our photo tours and workshops in and around Chiang Mai we give you the opportunity to learn and experience. Learn photography and experience Thai culture that you'll not be able to on any regular tour.
Capturing the essence of your adventure in pictures that are carefully composed and exposed will keep alive your memories for years. Including a day-long photography workshop will equip you with the skills to truly boost the level of your pictures taken in Thailand.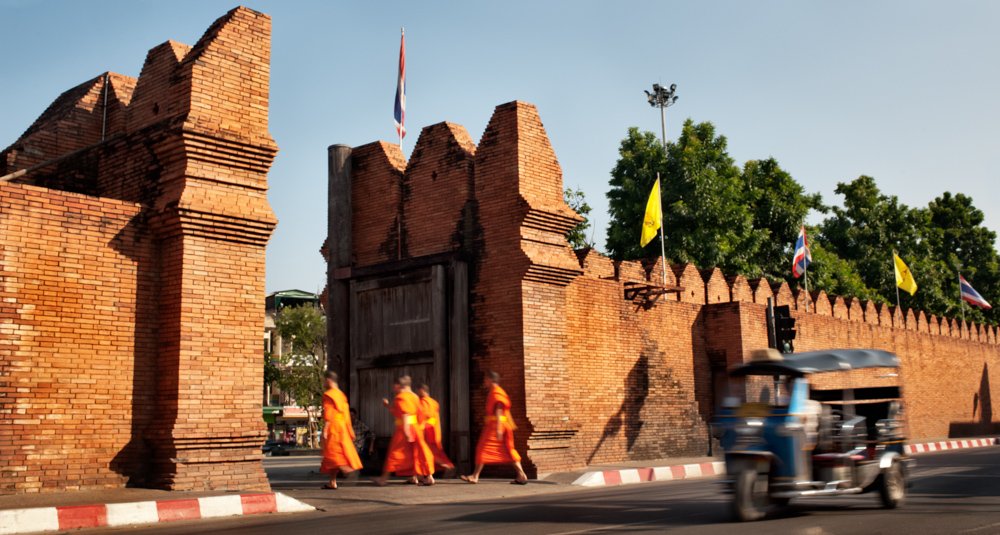 We run various workshops with small groups. We've chosen some of the best locations in and around Chiang Mai. They are visually stimulating and at time challenging to photograph. You'll be taught how to manage making better photos in difficult situations.
Focus On People Photography
People photography is a large focus in our workshops. So many photographers tell me they hate imposing on people for a picture. I understand this as I used to feel the same way. Most people actually don't mind having their picture taken if you approach them the right way. Communication is the key.
Even if you don't speak the same language you can still communicate politely that you'd like permission to take someone's photo. I can show you how it's done and teach you to have great success. Building up collections of people photos wherever you travel will not only improve your visual storytelling, it will enrich your vacation experience. Meeting people and photographing them is so much fun.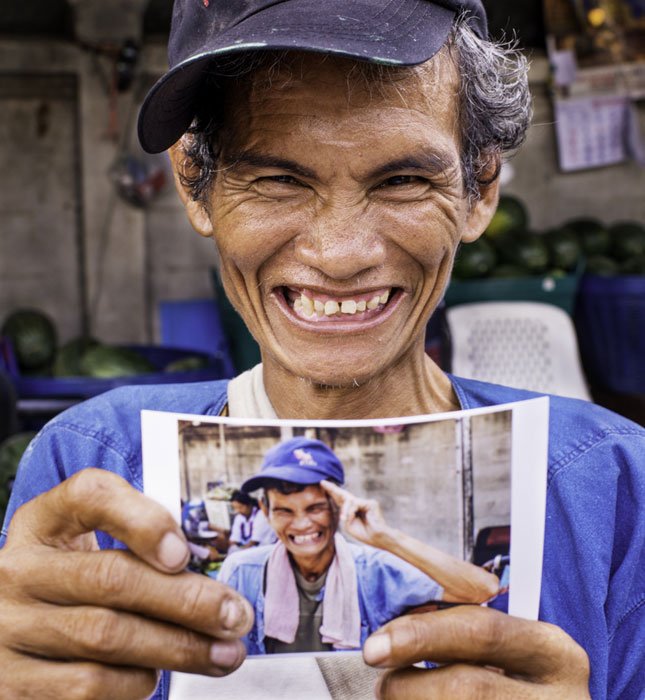 Small groups and even one on one teaching is important to us. We'd rather work with smaller groups or individuals because it allows us to pay more attention to what you want to learn. Tailoring our teaching to suit your needs means you gain the maximum benefit.
We are open to working with larger groups traveling together who may prefer a photography tour while in Chiang Mai and throughout the north of Thailand. With more people there's less opportunity to teach specifics, but our local knowledge and experience means we can take you to some great locations.
Learn to Take the Best Photos While You're in Thailand
Much of the teaching during a Chiang Mai Photo Workshop is based around camera use and technique. Many people who attend our workshops tell me they use aperture priority mode most of the time. They also express their experience with their cameras is lacking and they know they can do better.
Being in confident control of your camera is essential to taking better pictures. If you struggle to find the right settings you'll end up missing opportunities and become frustrated, (and start using your phone.) It takes some time and study to know how to use a complex camera, unless you are on an auto mode most of the time.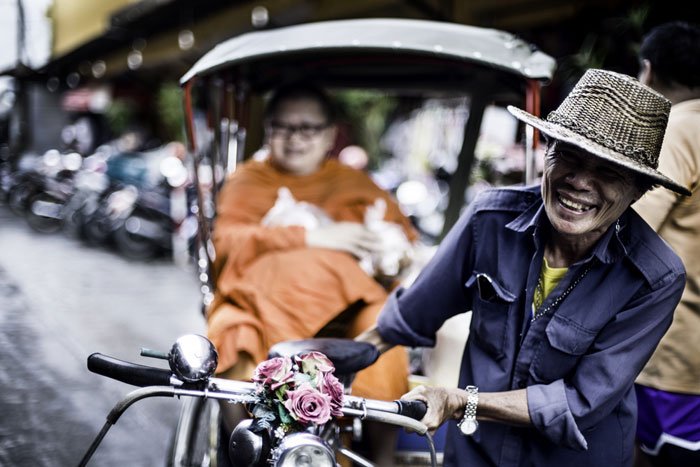 Stuck on auto you are not going to learn much. I do not believe using auto modes will help you advance. I will teach you to set your camera to manual and how to make great photographs. Being in control of your exposure is the beginning of becoming a better photographer. If you constantly rely on your camera to set your exposure, (this is what happens on any auto mode,) you'll always end up with generic looking pictures.
It's not that complicated. Manual mode may seem difficult, but spending a day on a Chiang Mai Photo Workshop will take the mystery out of it. You will learn how to manage your camera settings and which ones are important. There are not so many of them as you may think. Taking the best pictures you can while you travel through Thailand will become easier than you think.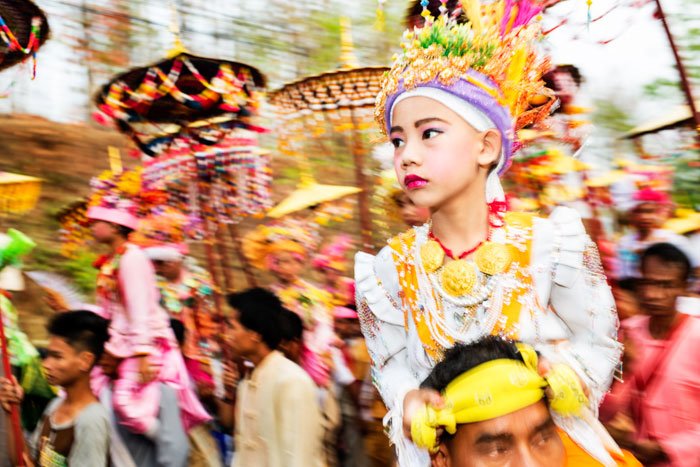 Take a Relaxed Photography Learning Retreat
We run custom photography retreats from our home, which is a bed and breakfast, south of Chiang Mai. Our retreats offer you the opportunity to discover more of your creative gifting, learn how to use your camera intuitively and infuse your photos with a depth of meaning and feeling beyond what you can currently imagine.
Photography retreats are customized to best suit your needs. You can stay for as long as you like and we'll design an experience for you with as much or as little photography as you like.
We're situated at the base of Doi Inthanon National Park, one of Thailand's most pristine parks and the highest mountain in the kingdom. This provides fabulous locations for photography adventures. Our local community is also very photogenic.
Take a look at our web page to learn more.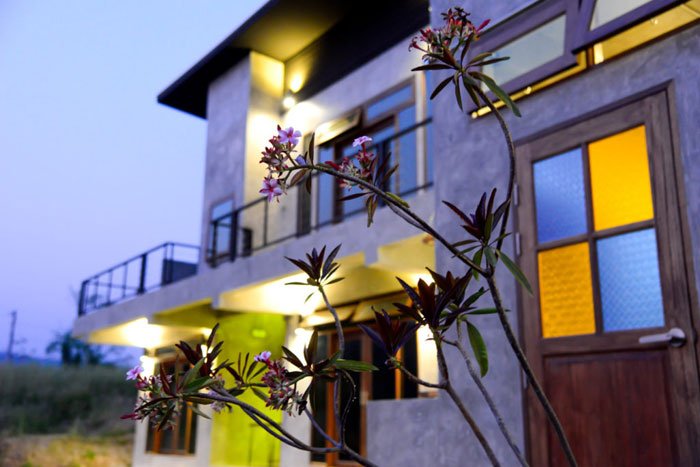 Make the Most of Your Thailand Tourism
You want to take the best picture while you're in Thailand. Follow through on what you've learned in this article and you are well on your way. Book a photography tour for your group or a photography workshop for yourself and a few friends. You will be sure to come away with some of the best pictures you can.
[contact-form-7 404 "Not Found"]