Rebecca had this to share about her experience …
I cannot say enough good about Kevin. There are a lot of amazing photographers in this world, but not many are truly exceptional teachers. Kevin truly know how to put the art of photography and the technical aspects of the camera into the right light for each one of his students. He certainly did so for me.
I've been traveling for 9 years now and have been a self taught mature photographer for a good majority of that time. I was looking to step my craft up a few notches but just couldn't seem to get past a certain level… I knew I was grasping all that my camera could do, and the frustration of not being able to capture a shot just the way I wanted it was beginning to kill my creativity. Then, along came Kevin. He was the key to unlocking the magic! Answered so many questions and inspired so many more, then gave me the answers with hands on experience.
Not to mention, he knows the streets of Chiang Mai like a native and will you to places you would have ever found on your own. What he charges for the day is so exceptional reasonable, especially as the knowledge you will walk away with is priceless. I've moved onto Laos since then and I truly cannot believe the differences in my photos… I'm inspired all over again. Thank you Kevin!!!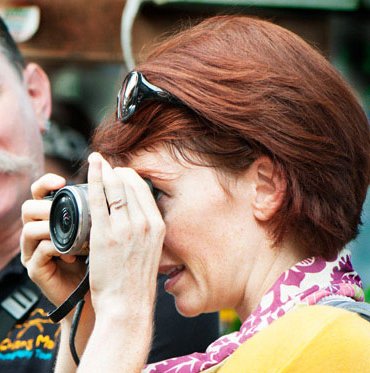 Jack left us this review …
Kevin and Pansa introduced me to the local life in Chiang Mai, which allowed me to feel more comfortable in approaching people in the markets and later with the hill tribes. Along the way I was learning from a well respected professional photographer, who showed excitement for my photography as well as any photo opportunity that came our way. I look forward to my next journey with Kevin and Pansa, where we can create an even more special adventure over a few days.
I don't normally write reviews so this was special for me and I am sure it will be just as special for you.
Fernandas shared this about her experience …
I had a wonderful morning with Kevin and Pansa. Unfortunately my time in Chiang Mai was very short, so I booked a one-to-one half day photograph tour. It was a cloudy morning, with rain sometimes, which helped me to learn a lot about light conditions.
Besides the fact that both of them are extremely knowledgeable, they are very nice and communicative with people of local ethnic tribes. I've always been shy about photographing people, specially in different cultures. But Kevin and Pansa were talking and interacting with them all the time, which helped me to shoot very natural and smiling faces. This connection is great advantadge when you book a tour like this. And Kevin and Pu couldn't do it better.
Kevin helped me a lot with tips about composition, correcting me when my photos were not telling the story. He also encouraged me when I was frustrated about the light.
This is not only a photograph tour. Its a wonderful way to visit lovely Chiang Mai from a different perspective. Something you would never have on a conventional tour.
If you are planning a visit to Chiang Mai you must book this experience!!!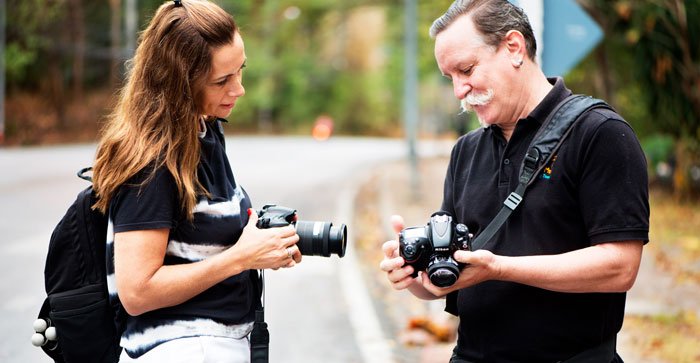 John said this about his experience …
I took a 1 day workshop over two different mornings with Kevin and Pansa and really felt that it took my picture-taking to a new level. I got used to working in manual rather than aperture priority mode and Kevin spoke to me in detail about getting the lighting for each photo right. In spite of the heat, we spent just the right amount of time at each place, in a way that was relaxed and informative but not hurried or threatening to give me technical overload. I can really recommend this tour as an interesting way to see Chiang Mai's temples and take some great pictures at the same time.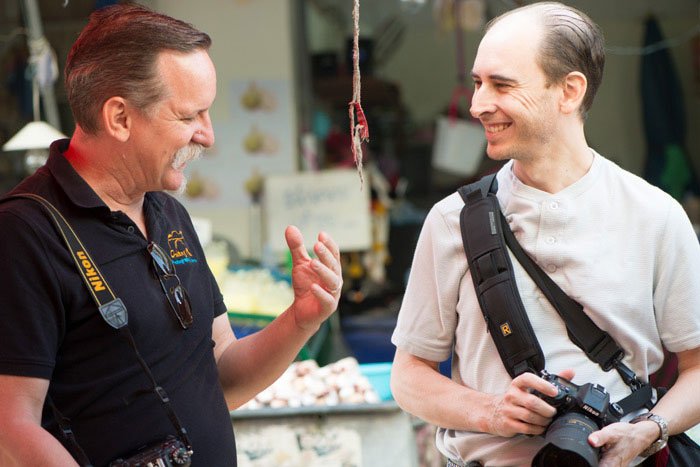 Hind had this to say …
Looking through what to do during my stay in Chiang Mai, I came across the Chiang Mai Photography Tours; without second thinking I contacted Kevin immediately through email and mentioned what I would like to capture and the days I am available and booked a 1 Day Mae Sa workshop which included a visit to a temple, orchid garden, elephant show, and the hill tribes. Kevin and Pu where very helpful and gave me tips and tricks on using my camera through out the trip. Although it was a long day, but I am very very pleased and happy that I went on this tour and the results I have captured are more than satisfying. The highlight of my trip was mainly the visit to the hill tribes in which I practised my love for portrait photography. It was easier being with both Kevin and Pu because the local people know them already and are comfortable around them which made photographing real expressions easier. If you are a beginner or expert in photography, you should go on a day trip with them; an unforgettable experience. Thank you again!
Sue shared about her experience …
Exceeded my Expectations! Kevin and Pansa were simply wonderful. I was fortunate enough to have them both to myself for this workshop so needless to say i had a personal one on one experience. The locations are fun and beautiful with culture and history. Kevin is very knowledgable about photography and we had several very engaging conversations. I am a working photographer now but shoot mostly beauty and fashion so this was a completely different genre for me. He helped me understand ways of seeing the subject and telling a story with my pictures. It was a great day and wonderful way to experience some of Chiang Mai!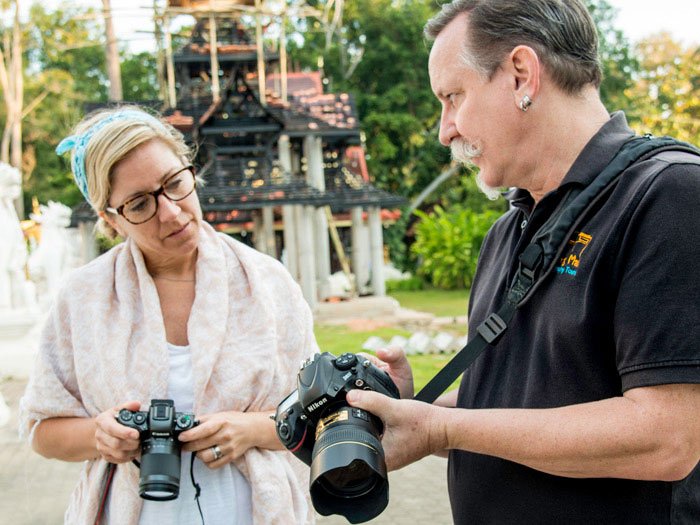 Read more reviews on Trip Advisor
[contact-form-7 404 "Not Found"]
Fill up the form and ask your queries
If you're wanting to book a workshop please include the date(s) and the workshop you are interested in.
For pricing and details please keep scrolling down this page.